Wildcats hold off Rebel attack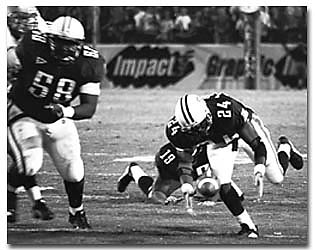 Mike Meisinger
UA senior nickelback Zaharius Johnson attempts to recover a UNLV fumble late in the third quarter last night.
UA 38 | UNLV 21
By Maxx Wolfson
---
ARIZONA DAILY WILDCAT

Saturday September 22, 2001

Johnson ties school record in victory

A two-week layoff seemed to have no effect on the UA football team, as they rolled to a 38-21 victory against UNLV at Arizona Stadium last night.

In just his third start at the collegiate level, junior quarterback Jason Johnson led the charge for Arizona (3-0), completing 18 of 30 passes for 247 yards and three touchdowns.

Johnson managed to spread those passes around, connecting with nine different receivers by the end of the first half. It was the first time an Arizona quarterback had hit that many receivers since Keith Smith did so against Penn State in UA's 1999 season-opening loss.

Play of the game

An 80-yard touchdown run by freshman running back Tremaine Cox with 3:16 left in the second quarter pushed the Wildcats' lead to 24-7. Cox finished with a game-high 111 yards on the ground.

Player of the game

Junior quarterback Jason Johnson, who completed 18-of-30 passes for 247 yards and three touchdowns while being sacked just once.

Stat of the game

UNLV quarterback Jason Thomas was held to 113 total yards. The elusive quarterback and early-season Heisman Trophy candidate was sacked three times and held to only 13 yards on the ground and completed only 5-of-17 passes.


"The Arizona offense mixed the pass and the run really well and overwhelmed us," UNLV head coach John Robinson said. "They threw the ball well."

For the first time in his 25 years of coaching, Robinson has started a season 0-3, while the win marks the second time in the last seven years that Arizona has started a season 3-0.

The Wildcats scored on their first possession of the game and didn't trail after that.

UA capped off an 11-play drive with a 14-yard touchdown pass to junior wide receiver Bobby Wade. The touchdown would be the first of two on the night for Wade.

"That's big," Wade said, referring to scoring on the first drive. "Coach Mackovic always talks about us trying to set the tempo. The offense was able to set the tempo tonight with the opening touchdown."

The UA offense dominated the first half of play, racking up 333 total yards, compared to a UNLV's 96 total yards.

Rebel junior quarterback Jason Thomas, a pre-season candidate for the Heisman Trophy, didn't fare as well as Johnson, completing just 5 of 17 passes for 123 yards.

"Jason Thomas is trying very hard to produce," Robinson said. "Things are just not falling for him right now."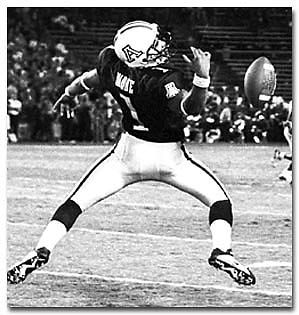 Eric M. Jukelevics

UA junior wide receiver Bobby Wade drops a pass last night against UNLV.

UA freshman running back Tremaine Cox had the play of the night as the first half wound down.

With 3:16 left in the second quarter, Cox - on a trap play - went 80 yards untouched to put the Wildcats up, 21-7. He finished with 111 yards on the night, a game high.

"That trap that Tremaine hit was a full blitz, man, it was a safety blitz," UA head coach John Mackovic said. "It was a perfect play for that. I thought Tremaine had the best game, but he did have one run for 80 yards."

The run was a career best for the Tucson native, who had gained only 24 total yards in his previous two games.

Mackovic said he wasn't happy with the overall performance of his three running backs. Sophomore running back Clarence Farmer (11 carries for 43 yards) and junior Leo Mills (12 carries for 41 yards) both had an uncharacteristic night.

"I wasn't satisfied with the running game average·less than five yards per carry," Mackovic said.

The Wildcats finished their non-conference schedule 3-0 and now play the next seven straight weeks without a break, a luxury they had before Saturday's game.

"We have a lot of experienced players, but we also have a lot of youth," UA senior wide receiver Malosi Leonard said. "It's good to see that we got our three wins under our belt and now we are going to take that confidence and that momentum and take it into conference."