Double-double dominance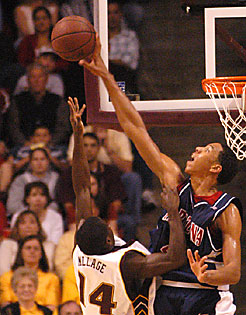 KEVIN KLAUS/Arizona Daily Wildcat

Sophomore center Channing Frye denies ASU's Curtis Millage, en route to a 23 point, 10 rebound, four block performance Saturday. Frye, who is averaging 11.7 points and 7.6 rebounds so far this season, was one of three Wildcats to finish with a double-double. Senior Jason Gardner finished just shy of being the fourth, tallying eight points and 10 assists.

By Brian Penso
Arizona Daily Wildcat
Monday February 24, 2003


Walton, Anderson and Frye finish with at least 10 points and 10 rebounds each to pace No. 1 ╬Cats

TEMPE ÷÷ When Channing Frye returned home to take on Arizona State last season, he had high hopes of playing well and getting a win in front of family and friends.

Unfortunately for Frye, the Wildcats were embarrassed by 16 points and Frye finished with just six points and four rebounds.

More than a year later, the results were much sweeter for the Phoenix native.

Frye finished with 23 points, 10 rebounds and four blocked shots, and the Wildcats (21-2 overall, 13-1 Pacific 10 Conference) proved that they are still a level above ASU (17-8, 9-5) as they cruised to a 92-72 victory Saturday in front of an audience of 14,421 people.

The Wildcats have won 15 of the last 16 meetings against their in-state rival.

"I felt for our team to win, I had to play my best," Frye said. "Lately things have been falling for me. My teammates have been giving me the ball, and I've just been aggressive. The game is just so much more fun."
UA head coach Lute Olson said Frye is playing at the highest level, and there is nothing more he can really ask to get out of his sophomore center.
Frye scored 17 of his 23 points in the first half, but ASU managed to keep it close for the majority of the first half.
With the score tied at 39, the Wildcats finished the first half on a 12-4 run and the offensive onslaught continued with a 12-1 run to start the second half.
UA went on another one of its patented offensive runs to break the game wide open and it never looked back.
Coming into the game, the talk was about the matchup between Frye and Pac-10 Player of the Year candidate Ike Diogu.
Diogu averages 18.8 points and 7.1 rebounds per game, which are both in the top five in the conference.
Diogu has dominated every Pac-10 team except the Wildcats, who held him to six shot attempts in the first matchup in Tucson.
The Wildcats used a 1-3-1 zone to smother Diogu around the basket in the first matchup earlier this season and implemented the same defense Saturday night.
Diogu finished with 15 points and 10 rebounds, but he was outplayed and out-hustled by Frye.
"I always feel I have something to prove," Frye said. "Everybody has been saying that I'm soft and that I can't bang, but I feel it's not my game to be doing that. I go out there to get the job done, block shots, rebound and run the court. Just because I'm not 260 pounds doesn't mean I'm not a force inside."
Arizona's stifling defense made the young freshman work hard just to get position in the low post and as the game went on, Diogu began to become less of an inside factor.
"They did the same thing that they did during the first game," Diogu said. "They constantly had two or three people around me. You have to give them credit, they executed their game plan."
Diogu began settling for perimeter shots and stayed mostly away from the basket.
Besides Frye, seniors Rick Anderson and Luke Walton also finished with double-doubles.
Walton finished with a season-high 23 points, 10 rebounds and four assists, and Anderson added 19 points and 12 rebounds.
As a team Arizona finished with 43 rebounds, 11 more than ASU.
Besides dominating the glass, Olson has been emphasizing improvement at the free-throw line; Arizona finished the game 19-20 from the line on a season-high 95 percent from the charity stripe.
Arizona returns to action Thursday night at California with a one-and-a-half-game lead over the Golden Bears in the Pac-10.
Something to say? Discuss this on WildChat