From playing partners to parenthood
SAUL LOEB/Arizona Daily Wildcat

Bill Walton, with wife Lori, and Maurice Lucas share a laugh after UA's win last night. Walton and Lucas, former teammates have been friends for 30 years.

By Maxx Wolfson
Arizona Daily Wildcat
Friday March 7, 2003


In Bill Walton's lifetime he has played ball with hundreds of different teammates.

Some were legendary, like Larry Bird and Kevin McKale. Others, like Maurice Lucas, weren't as well known.

But out of all of them, Bill decided to name one of his four children after his favorite teammate ¸ Maurice "Luke" Lucas.

That child, Luke, played in front of the guy he was named after for the first time last night.

"That is a neat thing that Bill named Luke after me," said Maurice, who has been friends with Bill for 30 years. "It was really special to see him play tonight. He is a good kid."
---
Next up: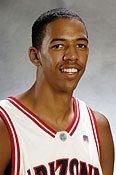 Player of the game: Channing Frye
24 points, 12 rebounds, 10-of-14 field goals
Who: Oregon at UA
When: Tomorrow, 2:00 p.m.
Where: Olson Court at Mckale Center
TV: CBS
Who to Watch:
UO- Luke Ridnour,
UA- Jason Gardner
---
Two years ago, when Luke was a sophomore for the Wildcats, UA fans started chanting "LUUKKEE." Back when Maurice was with Portland that was the same thing the Blazers fans would chant for him.
So with Bill, 51, in the stands for that game and with the Arizona fans chanting his son's name like they have done for the Wildcat forward ever since, Bill couldn't help to think of his old teammate.
"The first time that I heard that I was blown away," Bill said. "I called Maurice on my cell phone from the stands to tell him what was going on. I had tears rolling down my cheeks."
With Maurice clad in Beaver black and orange and Bill donning Arizona red, the two former teammates sat in the stands watching their two kids play. David Lucas is a sophomore for the Beavers.
It was the first time that both the Lucas family and the Walton family were able to enjoy a game together in the same arena.
"It was like playing against my brother," Luke said. "Once we got on the court I didn't think about anything other than winning. It brought something extra to the game."
Maurice Lucas, a 14 year-professional player and a key member of the 1977 NBA Champion Portland Trailblazers, while playing along side the elder Walton, said even though Luke is named after him, they have different styles of play.
"I was more of a basher back when I played," Maurice said. "Luke plays more of a small forward."
Papa Walton's time is running out to see Luke play, in college, that is. With the regular season ending tomorrow against Oregon, all that Luke has left in the cardinal and navy are the Pac-10 and the NCAA Tournaments.
Bill has made sure to be in the stands as much as he can. With an announcing schedule that sends him all over the United States to cover games for ESPN and ABC and his own reality television series, Bill always seems to fit in a trip to watch his second-youngest son play.
So with Luke and David on the court and Maurice in the stands, the night couldn't have been any better for the man who has made "throw it, down big fella" a household phrase.
And when Walton does his next NBA telecast later this week, he has to thank Maurice for something else, other than the name of his son ¸ his skills behind the microphone.
"I taught him everything he knows about broadcasting," Maurice said. "And make sure you tell him that."
Something to say? Discuss this on WildChat