'Cats pluck pesky Ducks with late run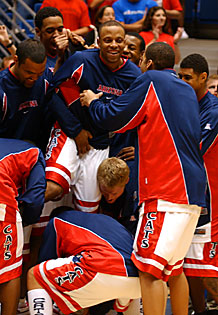 CHRIS CODUTO/Arizona Daily Wildcat

Arizona senior Jason Gardner gets mobbed by his teammates after the Wildcats' 88-80 win over Oregon Saturday in McKale Center. Gardner led all scorers by posting a season-high 27 points in the win. Top-ranked UA travels to Los Angeles this week for the Pac-10 Tournament.

By Brett Fera
Arizona Daily Wildcat
Monday March 10, 2003


For the first 30 minutes of Saturday's game, the backcourt duo of James Davis and Luke Ridnour had Oregon looking like both a national contender and a challenger of Arizona for the Pacific-10 Conference title.

That changed midway through the second half as the Wildcats (25-2, 17-1 Pac-10) proved why they are the nation's top-ranked team by closing out the Ducks (20-9, 10-8) 88-80.

Ridnour and Davis combined for 21 of Oregon's 38 first-half points, compared to just six for UA guards Jason Gardner and Salim Stoudamire.

Gardner and Stoudamire caught fire in the second, scoring 21 and 17 points in the half, respectively, on Senior Day at McKale Center. Gardner finished with a season-high 27 points, while Stoudamire countered with 19.

Gardner traded blows all day with Ridnour. It was Ridnour that had the upper hand to start, but Gardner had the last laugh in the matchup of two of the country's top point guards. Ridnour put up 26 points and seven assists, keeping Oregon in the game.
---
Inside the Box Score

Player of the game: Jason Gardner ÷ In his final game in McKale Center, the Wildcat senior scored a season-high 27 points with 21 in the second half. With his family in the stands watching, he went toe to toe with Oregon's Luke Ridnour in a battle of the Pac-10's top two point guards.

Stat of the game: After ending the first half 0-of-7 from 3-point land, the second half was a different story. With Gardner making four, UA connected on 6-of-8 from behind the arc.

Play of the game: With the game tied at 56, freshman Hassan Adams leads a fast break with Gardner to his left. Adams dishes off to Gardner who lofts the ball in the air for Adams who finishes it by throwing down the one-handed alley-oop. The dunk gave the Wildcats the lead for good.
---
Stoudamire rebounded from a lackluster performance in Arizona's win over Oregon State on Thursday. The sophomore shot 0-of-4 from the floor with zero points in 12 minutes during the first half of that game.
Stoudamire attributed much of his success Saturday to Gardner.
"Jason showed the ultimate confidence in me," said Stoudamire, who connected on 2-of-3 from beyond the arc and 7-of-8 from the free-throw line. "He really could have taken over the game but he passed it to me instead."
While scoring finally picked up for the Wildcats after halftime, it was Arizona's defense that ultimately sparked the team to victory.
"I think we played better defensively in the second half," Gardner said. "In the first half, we stressed out too much about not hitting shots."
After trailing 54-49 with 13 minutes left in the second half, the UA defense clamped down on the Ducks, holding them without a field goal until Ian Crosswhite's 3-pointer at the 5:34 mark. The Wildcats broke a 56-56 tie on a fast-break alley-oop from Jason Gardner to Hassan Adams, putting them up for good. Arizona outscored Oregon 23-4 during the seven-minute run.
"It's fun having those spurts," senior forward Rick Anderson said. "It's unexplainable. We have to create turnovers; that will be the key to us on our run in the tournament"
For Arizona's three departing seniors ÷ Anderson, Gardner and Luke Walton ÷ it was the last time they will lace up to play in McKale Center as Wildcats. The trio was honored at mid-court with their families in a post-game ceremony.
Gardner exited the game during the last minute of play to a standing ovation from the crowd and the crowd chanting his name.
"To go out in my last game, hearing the fans chant my name, it was a great way to go out, a great feeling," Gardner said. "It's kind of sad to be my last game here, but we've got a long road in front of us."
Walton finished with eight points, six assists, and five rebounds, while Anderson ended his home career scoring just four points, but also grabbing eight boards of his own.
While the team is an obvious target going into the Pac-10 tournament in Los Angeles this week, head coach Lute Olson said his team has to make sure to keep its goals in check with the postseason on the horizon.
"Now we have to make sure that we don't tire ourselves out in Los Angeles and take it one game at a time. I think that we are ready to make our move."
---
Game notes
In a day dedicated to the UA seniors, high school senior Ndudi Ebi, who signed a letter of intent with Arizona, was in attendance to watch his future team play. He said after watching the senior day festivities and seeing how great the McKale Center fans were, he couldn't wait to get his career started with UA ·
Another signed Wildcat recruit, Houston high school junior Jawann McClellan, also took in the game with his father. Arizona also brought in three unofficial recruits who are still deciding on what school to attend ·
Even though he is listed as a senior, walk-on Fil Torres will return to UA next season because he still has eligibility remaining ·
Miles Simon, a key member of the 1997 national championship-winning team was in attendance to watch the UA seniors bid farewell to McKale. Simon has decided to leave the CBA and find a place to play in Europe. "The money is so much better there," he said.
Something to say? Discuss this on WildChat