Stress levels at orange alert
EMILY REID/Arizona Daily Wildcat

Jimmy Avila, a graduate student of education, watches coverage of the war in Iraq while taking a break in the Student Union Memorial Center's TV room yesterday afternoon.

By Nate Buchik
Arizona Daily Wildcat
Tuesday April 1, 2003


War and safety loom on the minds of students

The coalition advances on Baghdad, U.S. troops are missing in action and the status of Saddam Hussein is unknown.

With media providing insight and extensive coverage of the war, the task of staying updated is rather daunting.

And for those who pressure themselves to always find out what's going on, the reward is often a not-so-fulfilling load of stress.

But even students or faculty who keep their war-watching at a minimum might be at risk to an increase in stress, or greater psychological consequences, while U.S. troops fight in Iraq.

"I'm much more stressed. Because since Sept. 11, it's a lot scarier to think about what could happen at anytime, anywhere," said Amber Fisher, general biology junior. "I think of the Air Force base south of campus, that could be a target, or the power plant up by Phoenix, that could be a big target too."

Ken Marsh, director of Counseling and Psychological Services, agreed that war makes these difficult times.

"The knowledge is in your mind 24/7. People are at risk, people are dying, there's danger throughout the world. And it's not just limited to what's going on in Iraq," Marsh said. "And everybody knows somebody who's involved, whether it's a family member, community member or relative. Other times it's a little more removed, but the connection is still there."

Students agreed that it's tough to have people you care about battling in the Middle East.

"Any time the local news comes on and it says a Marine is down, my heart stops," undecided sophomore Emily Downing said.

While stress levels could go up immensely if there are relatives involved, much can be done to alleviate the anxieties of war and lower your stress levels during turbulent times.

"I think the best option is to be connected with family and friends," Marsh said. "Since we all get together and talk and argue about it, it's really very healthy. That's the way we, as a culture, deal with it."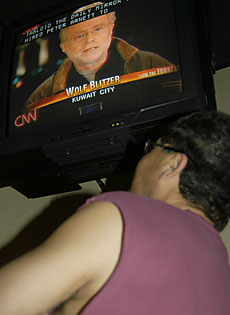 EMILY REID/Arizona Daily Wildcat
Education graduate student Jimmy Avila watches news coverage of the war in Iraq yesterday afternoon on one of the numerous televisions around campus.
Marsh said keeping a semblance of normal life can improve your mental state. School, jobs, exercise and movies can all help keep the war out of people's minds. At least for a while.
"Just doing daily things like watching the game this weekend and doing my homework gets my mind off of it, but there's not a whole lot you can do once you start thinking about it," Fisher said.
Stress, which affects a person's body and mind, can cause fatigue, depression, insomnia and mood changes. It can also hinder your focus and concentration, affecting your time in school and at work.
"Counseling is an option if you can't concentrate or can't get any work done. But it doesn't always have to rise to that level," Marsh said.
While no one has been specifically counseled because of the war, free counseling sessions are available for any student at CAPS, which is located on the second floor of Campus Health Services, and is open between 10 a.m. and 4 p.m. on most days.
Ironically, the media is the source for much of the stress that people feel. Twenty-four-hour war coverage engulfs many cable channels and news briefs can even interrupt March Madness basketball. Newspapers' front pages also are usually dominated by war news, and Internet news sites are seeing a dramatic increase in hits.
"FOX News tends to broadcast things before they have all the information. So I stress out a little bit more, and then they have to retract it," Downing said. "I don't really like to watch anymore because it seems like it's the same thing over and over, and it's a bit depressing."
And although the news coverage won't stop, you don't have to read everything that's printed.
"These days with instant communication, we can spend too much time poring over the results of what's happening at this instant," Marsh said. "At most, get a half hour of news coverage during the day and then go back to life. If you become absorbed in what's happening in the war, you get yourself stressed out."
Marsh compared the dangers of the news now to the stream of coverage the United States endured after Sept. 11.
"Some people got fixated with the news and got very stressed and depressed because they were overly immersed in the news. It's definitely possible to get too much news," he said.
However, there are students that don't feel affected by the war, even if they are updated frequently.
"I go on the Internet, I watch CNN and FOX news. But I'm fine with it. It's something to watch," said undecided freshman Zach Colick. "Sometimes it's too much. But it's not stressful, just repetitive."
With spring break's relaxation long forgotten, there won't be any vacations from schoolwork and the country at war until the summer. And who really needs added anxiety during finals?
Just make sure to keep the mind and body strong by getting help when you need it.
Something to say? Discuss this on WildChat