Hot Weather Style

By Jessica Suarez
Arizona Daily Wildcat
Tuesday April 1, 2003


What are you wearing and where did you get it?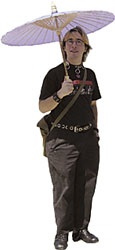 Jesse Kirchner
linguistics junior
Parasol: At a Japanese store in Washington D.C. I think guys should be allowed to have pretty things.
Collar: I got it in Amherst while I was visiting a friend.
Shirt: U2 concert
Boots: Secondhand Army boots
Do you have any tips for dressing in the heat?: I don't think anyone would want my tips. Well, wear a hat or umbrella. Parasols are where it's at.
---

Kevin Lucero Less
fine arts senior
Glasses: They're vintage, from a place in L.A. They're James Dean's glasses. I'm a big James Dean person.
Shirt: I got this from the Island of Catalina.
Jeans: Lucky brand.
Shoes: They're Reef Surfboard flip flops.
So how's dressing here compared to L.A.?: It's a lot more casual here, because the temperature is way hotter than in L.A.
If you had a friend visiting you this week from L.A., what would you tell them to wear?: Shorts, and flip flops. And a muscle tee. Oh, and suntan lotion.
---

Tracy Castagnoni
fine arts freshman
Bag: It's a Kate Spade bag my sister gave me.
Shirt: Urban Outfitters
Pants: These are just Dickies.
Belt: Hot Topic
Has the weather here changed the way you dress?: I guess so · I've just been wearing tank tops.
If you had a friend visiting from New Jersey, what would you tell them to wear?: Tank tops, capris, sandals, and a jacket for the night.
Something to say? Discuss this on WildChat