Wildcats take on rejuvenated Sun Devils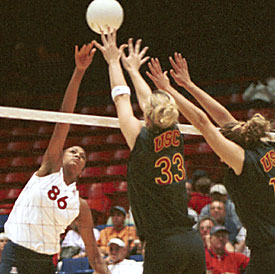 DANIEL BERDANER/Arizona Daily Wildcat

UA freshman hitter Kim Glass, left, will try to lead the Wildcats to victory tonight when they take on Arizona State in Tempe. Glass has become the team's leader in kills this season as a freshman.

By Brian Penso
Arizona Daily Wildcat
Friday September 27, 2002


When Arizona State and Arizona head onto the field of battle against one another, it is always a dogfight not only for the teams, but also the fans.

Nothing will change tonight, as the 11th-ranked Arizona women's volleyball team travels to Tempe to take on the Sun Devils.

Since 1996, the Wildcats (6-4 overall, 1-1 Pacific 10 Conference) hold a 10-2 advantage against ASU, including winning the last five matches.

However, UA head coach David Rubio said this is the first time in many years that the Sun Devils and Arizona are equal entering a match.

"ASU is a lot better this season," Rubio said. "This is the best team they have had in many years and it is going to be a very even match. It will be the most even, I think, since I have been here. The match will probably come down to a few points in each game."

Arizona State (5-2, 1-1) is not ranked, but they are coming off a 3-1 victory against No. 17 UCLA.

The Wildcats have been led by freshman outside hitter Kim Glass offensively, and that won't change this weekend, but look for senior outside hitter Lisa Rutledge to step up her game.

In her career, Rutledge has averaged almost 17 kills and 14 digs per match, including five double-doubles.

In last year's match in Tempe, Rutledge recorded only the 18th 20-20 match in UA history, as she finished with 22 kills and a career-high 25 digs.

Another key for the Wildcats is going to be the play of its middle blockers.

So far this season, freshman Bre Ladd has been a force to be reckoned with defensively, but she hasn't been able to get into an offensive rhythm.

The same is true for UA's other middle blocker, senior Shannon Torregrosa.

ASU's defensive strengths lie in the back row, which should open up some good offensive opportunities for Torregrosa and Ladd.

"The middles are so important to our offense," Rubio said. "Every day we are getting better with our timing and attacking from the middle."

With five freshmen experiencing the in-state rivalry for the first time, many would think they would feel the pressure, but Rubio said the Wildcats' strong non-conference schedule has prepared them for this type of match and he does not figure that the crowd or the emotion from playing ASU will come into play.

"We have played so many good teams on the road this season," Rubio said. "We are confident in our ability and I don't think the crowd will come into play and be an issue."

Rutledge said the crowd should not come into play either, but she said the atmosphere becomes very rowdy and intense at times.

"The ASU fans are rowdy," Rutledge said. "We have dealt with them in the past and we have had to dealt with the coach over there being rude to us. That is what makes playing them so enjoyable because it definitely helps us step up our game."

The battle begins tonight at 7 p.m. in Tempe.