After Hours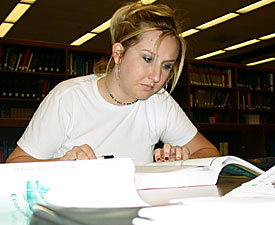 DAVID HARDEN/Arizona Daily Wildcat

Retail junior Nicole Shropshire spends her night at the Main Library studying for an economics exam last night. Shropshire and a friend began studying for the exam at the library at 8 p.m. and planned on staying until around 4 a.m.

By Lisa Schumaier & Jessica Suarez
Arizona Daily Wildcat
Tuesday October 1, 2002


Some students wouldn't dream of turning in early on a Thursday night

It's 2 a.m. on a Thursday night. Do you know where UA students are? They could be outside a downtown club picking up girls, or out on the UA Mall sharing a romantic moment on a first date. They could be staying up to study for their midterm exams, or trying to come down from a night of smoking pot and drinking. For some, the weekend starts at 9 p.m. on Thursday. For others, it's just another school night. Since it isn't a weekend night, and not quite officially a school night, it seemed like the perfect opportunity to find out what students do in the late hours of the Tucson night.

Belushe's Bar and Grill

"I stay out until 1 a.m., then I'm up until about 4 a.m.," said Natalie Burke, a senior majoring in communications. Drinking on the front porch of Belushe's, 1112 E. Sixth St., with some friends, she said that Tucson's 1 a.m. alcohol rule made her Thursday nights different from what they would be back home in New York City.

"There, I'd stay out at bars, then go to VIPs. Here, after bars you go to someone's apartment and drink," she said.

She also said that her parents wouldn't mind hearing about how late she stays out.

"They probably know," she said, adding that she has no Friday classes to worry about. "Thursday is my one big party night."

A quick car drive north to Speedway Boulevard brought us to Pizza Hut, where there was no partying, but lots of paperwork.

Pizza Hut

Stephen Bieda, a senior in atmospheric sciences, doesn't get to see much of Thursday's nightlife. He works the closing shift at Pizza Hut, 2945 E. Speedway Blvd., catching up on the day's paperwork. He usually finishes around 1 in the morning.

"I have to work late nights a lot," he said. "I usually hang out with friends, play pool or go bowling. I don't have time anymore."

Though he doesn't get to see much of what Tucson has to offer, it is a step up from his hometown of Sierra Vista.

"It's very, very boring there," he said.

While Pizza Hut closed at midnight, there is one place that absolutely never closes: the great outdoors. Trekking to the middle of campus, we found a couple that was making good use of all the wide-open space.

UA Mall

At night, the Mall is as romantic as a candle-lit dinner. The hustle of students running late to class is a ghost of the earlier afternoon, and the stars can be seen between lampposts. A couple relaxes on the cool grass.

Shane McClung and Allison Napel were on their first date. After going out to get ice cream, the two walked to the middle of campus so they could sit "and talk about random stuff," said McClung.

Although they plan to go home and study or sleep after their date, Shane said, "We are not tired yet."

From the heart of campus to the heart of downtown Tucson, students who haven't yet found a date are trying their best to look for one. By now, the bars have closed and the hunt is on.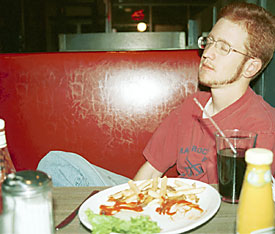 TERRI WALTZ/Arizona Daily Wildcat
On Congress Street
The bars are closed and Morgan Thomas, economics senior, has redirected his focus from hitting on girls at Club Congress to assisting drivers with parallel parking downtown.
"We are walking the streets making sure everything is safe," said Thomas.
The interview is already difficult to conduct because these guys are not interested in answering too many questions.
"It's OK, we may look like male models but we aren't," said Sowers.
Thomas and his friends have made Thursday nights into a tradition.
"Thomas thinks we just met him for the first time tonight, but every Thursday night we ╬meet' Thomas and then I see him in class on Friday and he acts like he doesn't know me again," said Joel Secan.
"After you get a little older, you can drink every night and still act exactly normal the next day," said Sowers.
But he reassures us that the statement is not indicative of alcoholism.
"You are only an alcoholic if you go to AA meetings," said Sowers. "AA meetings are for quitters and I am not a quitter."
When asked what they think about students who treat Thursday nights like a school night and go to the library, Sowers said, "I heard that sexual activity takes place on the fourth and fifth floor."
"Thursday nights are for people to go out and meet high school girls," said Secan.
Before we leave, the students use our time together to share one more fact, one that reveals more about their level of sobriety.
Sowers speaks up again and announces, for the record: "My testicles got burned off in a chemical fire in lab freshman year."
That disturbing revelation chased us to the florescent-lit safety and coolness of the local 24-hour Kinko's, 2607 E. Speedway Blvd. Here, students were catching up on last-minute projects.
Kinko's
Though she's up late now, Sue Kozak knows she'll probably be getting even less sleep in a year or so. A math and Spanish education major, she has late nights and even earlier mornings to look forward to as a schoolteacher.
"I'm not the type to get up early," she said.
Thursday night, she was working on a geometry project she had due in ten hours. Was she procrastinating?
"Yes and no," she said.
"We've been working on it for a while. I just need to print stuff up. The prints are it," she said. Though she said late-night copying isn't something she usually does, she also doesn't indulge in Tucson's bar scene as much as some people.
"I'm 22. I go out, too," she said. "I don't really drink, but I go to see familiar faces," adding that by this time on any other night, she would be sleeping or watching television.
At the same place, an hour later, Tim Budinger is making flyers for a sketch comedy troupe on campus.
"I'm making flyers for New Kevin," he said, explaining that the other members would be "pissed" if the flyers weren't displayed on campus well before their first show next week. Without the pressure of completing the flyers, Budinger would be having a fairly slow Thursday night.
"I'd be at home sleeping or playing Starcraft," he said. Still, he says he enjoys Tucson's nightlife ¸ to a point.
"It's pretty good until 1 a.m. The options for the insomniac are few and far between, though," he said. "It's all about the house party."
By now, Tucson is winding down. Students who were out at bars or parties during the night are finally at their final destination: bed. Still, a few were still out studying and winding down from the night. Another 24-hour establishment, Coffee X Change, 2415 N. Campbell Ave., was just a short car ride up Campbell.
Coffee X Change
For Serge Hougeir, a graduate student in medical school, it is not "all about the house party." It's all about neurology. A little after 2 a.m., Hougeir planned to study until 4 a.m. for a neurology class midterm.
"I try to wake up before 10, but it's rarely done," he said, explaining that he finds it difficult to go to bed before sunrise during midterms.
"I stay up later; I've shifted my days," he said. But students could have a regular study and sleep schedule, if they wanted to.
"You can have very regular days, where you go to bed late, and wake up late, or go to bed early, then wake up early and study," Hourgeir said. He also said medical school has changed the way he spends his nights.
"For me, I think just more selective," he said, about how he spends his free time. In New York City, his hometown, he would be out until 6 or 7 in the morning ¸ that is, when he isn't in school.
"Your social life is dictated by how far you are from midterms."
While Hourgeir and his study group quickly went back to their textbooks, two students were debating the hotness of a girl named Emily and consuming dessert foods a few tables over.
Coffee X Change
Over at another Coffee X Change table, Terry Tipado and Noel Torralba are achieving entirely non-academic pursuits.
"We played basketball," said Torralba, a communications junior.
"No, first we got really drunk and stoned," said Tipado, a psychology and religion junior.
"Then we played basketball," said Torralba.
The night ended with cake and coffee at Coffee X Change. But Tipado also insists he got some work done Thursday night on a short film he's planning on making.
"I'm making a film for personal pleasure," he said. "It's going to be a mix between ╬Bottle Rocket' and ╬Gummo.'"
Both students say they like being out late at night.
"Late night it's a whole new world," said Torralba. "Like Jacques Cousteau said, ╬It's like the water beneath the sea.'"
"But if you don't plan it, it won't happen," said Tipado.
A lack of spontaneous things to do on a Thursday night seemed to be a problem for lots of the students who were out. In Tucson, it seems, once you've found your bar, club or party for the night, you stay there. Still, at the Circle K across Speedway from the UA campus, one student thinks she's better off here than in her hometown.
Circle K
Nicole St. Louis, who stopped into the Circle K before heading home, said she has more to do here than she did back home, even though she's under 21 and living in a new city.
"There's much more to do in Tucson, even though people say there isn't," she said. She had been out at fraternity parties before stopping into the Circle K for some dessert food. How would her parents like to know she was out this late?
"They probably wouldn't like it, but they kind of already know," St. Louis, an education freshman, said. St. Louis, who is from Tempe, said she feels like she's having a better time going out late than her friends back home.
"I call my friends back home and they're sleeping."
The night still isn't over for some students, but their reasons aren't as fun as fulfilling late-night hunger pangs. Back on campus at the UA library, staying up late isn't about fun, it's about getting work completed before the sun rises.
Main Library
Anton Smith doesn't have time to look up from the computer. He has already procrastinated for too long, and within hours, the paper he is intently working on will be due.
Fabian Padilla sits in a swivel chair off to the side. He is clapping his hands and stomping his feet in some choreographed fashion, but his moves are silent so as not to disturb the other procrastinators in the library awake at this time.
They are dance majors preparing for a show.
"We are students and we always crunch at the last minute," said Smith.
"No day of the week is like a weekend for us, especially running a business like this," said Padilla.
Even though the assignment is stressful right now, there is no other place the artists would rather be.
"Except maybe in my bed dreaming about this," said Padilla.
"Only a fool would be up this late," Smith added.
By this time, Tucson looked pretty dead. The supermarkets and drugstores were empty, and all-night fast food places were filled with people just coming home from the graveyard shift. In fact, it looked like the only students who were still out were us.