Focusing on Girl Culture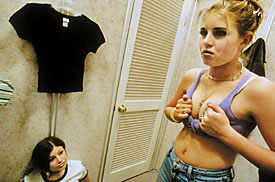 Photo courtesy of the Center for Creative Photography

Sheena tries on clothes with Amber, 15, in a department store dressing room in San Jose, Calif. This photo is one of many in Lauren Greenfield's "Girl Culture" exhibit at the Center for Creative Photography. Greenfield's photographs highlight the difficult relationships many young girls have with their bodies. The exhibit starts Saturday and runs until Dec. 8.

By Lindsay Utz
Arizona Daily Wildcat
Thursday October 3, 2002


In a media-saturated country where a female's worth often seems measured more by the shape of her body than the size of her intellect, it is no wonder so many women are quietly self-conscious or even privately ashamed.

Starting Monday, the Center for Creative Photography will open its doors to one of the most provocative and daring exhibits to be brought to Tucson. Lauren Greenfield's "Girl Culture" is a bold peek into the private and sometimes dark lives of American girls.

Greenfield is an L.A.-based documentary photographer who has been shooting photographs of girls and women all over the country for the past five years. Her photographs are a visual exploration of the difficult emotions and uncomfortable social situations young girls are faced with today.
---
"Girl Culture" will run at the Center for Creative Photography from Oct. 5 through Dec. 8.

Further information on Greenfield and her work can be found at http://www.girlculture.com.
---
Raised in L.A., Greenfield understands all too well the pressures of growing up close to an image-emphasized Hollywood.
Greenfield admits that the project is a "very personal and subjective look at a very specific aspect of the culture."
"Girl Culture" forces us to rethink the influence that popular culture, consumer culture and the material world have had on the modern American girl.
Her in-your-face photographs are not obtrusive, but not subtle, either. She is definitely making a statement.
One visual metaphor that comes up again and again in her work is the mirror.
"I think the mirror is a really powerful situation for looking at body image and how we see ourselves," she said. "And I think that girls and women have this love affair and also this love/hate relationship with the mirror."
In fact, Greenfield feels that "Girl Culture" is her own mirror.
"I was looking at a lot of situations that affected me as a girl and affect me as a woman and I hope that other women will see themselves in it," she said.
But doesn't girl culture exist in every country? Do American girls really have it that much differently than girls from other parts of the world?
On the one hand she believes that girl culture is more extreme in America, but on the other hand, said "You can't walk past a newsstand in France without seeing either naked women in advertisements where boobs are being used to sell car oil, and you wouldn't even be allowed to do that here," Greenfield said. "So I think that there are a lot of the same themes that affect women in other developed countries."
Besides France, Greenfield also traveled to China two years ago to photograph a story about privileged youth.
"We think of China as a poor country, we think of China as a communist country," Greenfield said. "And the young people in China, all they want is brand names and MTV."
The objectification of women is something that happens throughout the world, yet it is magnified greatly in our consumerist society, she says. Sex sells and sex is power. Greenfield understands girls use their sexuality to get attention.
"Beauty and being attractive is power," she said.
Girls learn at a young age that sex is power. They also learn how to be sexy at a young age. The advertising industry only encourages it while the media perpetuates it, Greenfield said. One of her photographs comments on this, showing a 13-year-old girl dressed in very adult clothing. This girl is just one example of the many young girls who are perceived in a very sexual way by men.
You can't discuss sex and advertising without mentioning Britney Spears. She has become a sex icon at only 20 years old and also one of the biggest trendsetters for today's youth.
"It is harder to be a girl today because girls have always cared about how they looked, but it used to be you just had to be thin to fit into your pants, and now you have to have a six-pack so that when you're wearing the midriff you have a sculpted belly," Greenfield said.
Greenfield is fascinated with the exhibitionism of modern femininity.
She focuses on the subcultures of cheerleaders, showgirls, strippers, debutantes, actresses and models. The photographs give us an inside look at the secret lives of these very public people.
On the exhibitionism of young children, she said, "Premature or precocious sexuality that you see acted out by a lot of kids, I don't think most of them really have any sense of what they're doing. They're just imitating a lot of the images and pictures that they've seen."
The most painful issue that Greenfield confronts in her photographs is that of self-mutilation.
In one photograph, a girl is cutting her belly because that is where her uterus is and that represents how it hurts to be a woman. Greenfield notices that girls internalize a lot and then use their body to starve or cut themselves as a way of expressing what's going on inside.
"The girls who do it talk about wanting to bring their pain and their scars to the outside, making them visible," she said.
Greenfield's subject matter often deals with delicate and private themes such as these, yet her photographs aren't from the outside looking in, but are rather from the inside looking in.
How is it that Greenfield is able to shoot such intimate photographs under such delicate circumstances? The secret to this successful aspect of her work lies in the fact that she is a friend to her subjects. She spends time and getting to know the girls.
Eventually she establishes a rapport with them and a sense of trust.
She does admit that it takes a while before she gets the picture that will be the final one in the exhibit. Sometimes it takes shooting 100 rolls just to get five good pictures.
Before this project, Laura Greenfield says she would not have called herself a feminist.
"I didn't start this project with any kind of political or social agenda," she said. "I got into it in a more personal way. But I think I came out the other side a feminist."
Feminist work or not, "Girl Culture" is an intimate portrayal of America's girls.
Her images are colorful, her compositional choices intriguing and her statements powerful.
"As a documentary photographer you hope that exploring the world and having people see it will be educational or will make people think in some way, maybe evoke some kind of discussion."