The Great Fall Crawl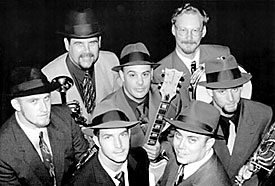 Photo courtesy of Slimstyle Records

Hipster Daddy-O play the Rialto Theatre during Fall Crawl tomorrow night. The weekend-long event will feature over 100 bands, most from the Tucson area, playing all styles of music.

By Eric Bochner & Biz Bledsoe
Arizona Daily Wildcat
Thursday October 3, 2002


The rain has finally ceased to fall from the skies, class schedules are finally sinking in and Tucson's music will finally carry itself through the streets and into thousands of listening ears. That's right, this Friday is Fall Crawl, a Tucson tradition dating back to 1997 as an attempt to give the local bands a little publicity and the locale a little promotion.
---
Zia Main Stage
· Tongue Dried Sun - midnight
· Chango Malo - 11 p.m.
· Sunday Afternoon - 10 p.m.
· Truck - 9 p.m.
· Broken Romeo - 8 p.m.

Zia Side Stage
· Tom Walbank and Friends - 8 p.m.

Rialto Theatre
· Al Foul - midnight
· Billy Bacon, Chris Gaffney, Mike Barfield, Teddy Morgan and Cathy Rivers 10 p.m. - midnight
· Hipster Daddy - 9 p.m.
· Red Switch - 8 p.m.

Evolution Nightclub
· Gridlokdt - 12:20 a.m.
· Gat-rot - 11:40 p.m.
· Coersion - 11 p.m.
· Blynd - 10:20 p.m.
· A.S.S. - 9:40 p.m.
· Fuerza - 9 p.m.

Club Congress (outside)
· Al Perry - midnight
· Luminarios - 11 p.m.
· Molehill Orchestra - 10 p.m.
· Creosote - 9 p.m.
· Nick Luca Trio - 8 p.m.

Club Congress (Inside)
· The Therapists - midnight
· Great American Tragedy - 11 p.m.
· The Gaylords - 10 p.m.
· Scratching the Surface - 9 p.m.
· The Nerves - 8 p.m.

O'Malley's (Outside)
· Good Talk Russ - midnight
· Stucky - 11 p.m.
· Easy-Co - 10 p.m.
· Sun Seven - 9 p.m.

O'Malley's (back room)
· Funky Bonz - midnight
· Is To Feel - 11 p.m.
· Prana - 10 p.m.
· The Love Joint - 9 p.m.

Plush
· Bad News Blues Band - midnight
· The Trophy Husbands - 11 p.m.
· Truckers on Speed - 10 p.m.
· Topless Opry - 9 p.m.
· The Woodcocks - 8 p.m.

Plush outside
· The Beating - midnight
· Greyhound Soul - 11 p.m.
· Fourkiller Flats - 10 p.m.
· The Hillwilliams - 9 p.m.
· The Deludes - 8 p.m.

The Hut
· Ricky P. and the Blues 1 a.m.
· Monsoon - midnight
· Jane Crow - 11 p.m.
· Black Leather Zydeco - 10 p.m.
· Big Galoot - 9 p.m.
· Beer Sucking Monkeys - 8 p.m.

Guidos
· Stop Tyler - midnight
· Tolerance - 11 p.m.
· Drive - 10 p.m.
· Ditchwitch - 9 p.m.

Che's Lounge
· Spacefish - midnight
· Manifold - 11 p.m.
· Le Cerca - 10 p.m.
· Play Alpha - 9 p.m.

North
· Mad 7 - midnight
· Innisfail - 11 p.m.
· Two Dimes - 10 p.m.
· Onadi - 9 p.m.
· Black Market - 8 p.m.

Red Room at the Grill
· Libra De Grasa - midnight
· Golden Boots - 11 p.m.
· Pilgrim Soul - 10 p.m.
· Chris Holiman - 9 p.m.

8-Traxx
· Mockingbirds 11 p.m.
· Tickle 9 p.m.

Sharks
· The Jons - midnight
· Myshaa - 11 p.m.
· Pointblank - 10 p.m.
· L3P - 9 p.m.
· 115 Down - 8 p.m.

Vaudeville
· Knockout Pills - midnight
· The Bunko Squad - 11 p.m.
· Ozlo - 10 p.m.
· El Creepy - 9 p.m.
· The Okmonics - 8 p.m.

Irene's
· The David Maldonado Group - 11 p.m.
· Latino Solido ö 9 p.m.

Iguana Cafˇ
· ATM Band - 8 p.m.

Stingrays (Formerly MacDaddys)
· Urban Evergreen - midnight
· Off White - 11 p.m.
· Red Letter Day - 10 p.m.
· Gorilla Behind Bars - 9 p.m.
· good likepain - 8 p.m.
---
All of the bars that line West Congress Street and North Fourth Avenue will be swinging with music from bands of almost every genre, and a few that don't quite fit into any genre at all. This event happens twice a year: Fall Crawl on Oct. 4th and Club Crawl in the spring. There are 20 stages lined up, four of which are located outdoors at Zia Mainstage, Hotel Congress, Plush and O'Malley's. One hundred bands are signed to perform to a projected turnout of over 10,000 people, so it is safe to say that the night will be filled with enough entertainment for everyone.
Owner Jeb Schoonover, and his assistant, Jon D'Auria, have both been organizers of the Tucson event since its conception.
"(Fall Crawl) started off as just Club Crawl in '97, and it started gaining popularity and such, and more and more people started going and supporting it," said D'Auria. "And then we finally decided that we should do it twice a year and have Fall Crawl as well, and give the bands more exposure."
One of the most appealing aspects of Fall Crawl is the unifying of music lovers of all types. People are going to go out there and see different people and hear different sounds and ultimately get a taste of Tucson that is only available twice a year. You can hit bars that you never knew existed and make your way through the flow of bodies on a pilgrimage to hear Tucson's pulse beat louder than you've ever heard it beat before.
"The beautiful thing about Fall Crawl is that · it accepts all the music equally," said D'Auria. "So you'll get hardcore bands going to watch punk bands, and punk bands going to watch ska bands and roots bands and stuff. So when you go to Fall Crawl, the beauty of it is that you could go to one club and see a great heavy band, go to another club next door and see a great funk band."
Although the bands are going to reap most of the benefits through exposure, everyone will be able to get a chance to become more aware of what kinds of different scenes there are in Tucson. A few bands are showing up from out of town, namely from Phoenix and California, so the diversity will only grow.
Chango Malo Is to Feel, Sunday Afternoon, and GoodtalkkRuss will be among the bands that will be playing on Friday night. Everyone's goal is to get out there, play some good music, get people interested in supporting the Tucson scene and have a good time.
"We've been around a lot," said Justin Lillie, bassist for Chango Malo. "We just got off our national/international tour that we did over the summer, and we went on tour last spring, and we have our first two albums for sale at Zia right now."
For those of you who constantly complain about the lack of things to do in Tucson, this night will promise a welcome alteration to the redundancy of college nightlife. Although it is, as always, necessary to be over 21 to see the bands in the bars, there will be a good rotation of bands on the outdoor stages and a plethora of new faces getting into the jams, grooves and riffs mingling in the night.
"(Fall Crawl) creates awareness about what's out there in Tucson because, to be honest, you can talk to people that say the scene here in Tucson sucks, and I'll whole-heartedly say that the scene here in Tucson is the best scene I've ever been around, out of anywhere in the U.S.," said Lillie. "Our band has been all down the west coast, up in Canada, up in the Midwest, and no scene ÷ in Chicago, in Los Angeles, in Hollywood, in Seattle, in Portland, none of those places ÷ have a scene that even comes close to what Tucson has right now. And so what Fall Crawl and Club Crawl does is create awareness to the people in Tucson who have no idea that all these bands are out here."
This is a time in our lives when new things should be considered, open minds should be plentiful, and influences should come in all mediums. Better to go see these bands while you can still listen to them without a hearing aid and dance around without a walker, right?
"I think (Fall Crawl) exposes people that have never seen local bands to them. I think a lot of times people are afraid to go do something they've never tried before, so Fall Crawl makes it all right," said Frank Dillon, guitarist from Is to Feel.
"If you aren't normally a supporter of local music, Fall Crawl is just that one night that makes it all right · you see fans you wouldn't normally see and I think everybody has a lot of fun."
If you run over to Zia Record Exchange before Friday, you can get a wristband for five bucks that acts like an all-access pass to the bands. For anyone who can't get there in time, worry not.
On the night of the bands, you can pay seven dollars and have just as good a time. This is one night that everyone should make the effort to get out and see what there is to see, and hear what there is to hear.
"What Fall Crawl does is it just accepts everything and then brings it in and supports it," said D'Auria. "It's probably the greatest push for the Tucson music scene all year and it really helps get attention out to bands, and everyone pretty much benefits from it."