UA needs 200 more pints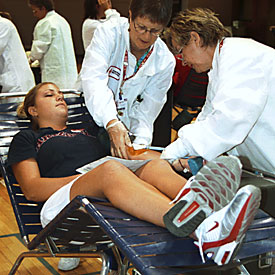 SUSIE LEMONT/Arizona Daily Wildcat

Judy O'Reilly and Jan Martin, two donor service specialists, help Christina Mcentire, an accounting freshman, give blood last Thursday. The UA-ASU blood drive competition will end on Friday.

By Sarah Nixon
Arizona Daily Wildcat
Wednesday October 16, 2002


With only two days to go in the 16th-annual UA vs. ASU blood drive competition, the Wildcats need to make a big push for 200 more pints to catch up to ASU.

There are four blood donation sessions remaining on campus this week and UA has collected less than half of the 1,200-pint goal. The goal for the blood drive was reduced from 1,500 pints earlier this week.

"At this time, I am projecting that we are 200 pints behind ASU," said Todd McCormick, American Red Cross representative for UA.

UA has beaten ASU for 11 out of 15 years.

But ASU could pull ahead in the competition, considering the UA had a head-start on the drive.

"It's tough to tell right now because most of ASU's drives are this week and most of our drives were last week," McCormick said.

"We need a phenomenal second week to make up for a lackluster first week," said marketing senior Cale Miller, co-director of the UA-ASU blood challenge.

Students should get out and give blood this week if they want to beat ASU, Miller said.
---
To donate blood, go to:
Oct. 17
McClelland Hall 9 a.m. to 2 p.m.
1130 E Helen St.
"Swede" Johnson Building 8 a.m. to noon
1111 N Cherry Ave.
Kappa Kappa Gamma 11 a.m. to 4 p.m.
1435 E. Second St.
Oct. 18
Campus Health 11 a.m. to 4 p.m.
1541 E. University Blvd
---
Students, staff and faculty donated more than 1,100 pints in last year's week-long drive, beating ASU by 350 donors.
Each donor gives one pint of blood.
This year's competition runs for two weeks. Compared to previous years, the UA is behind at the moment, Miller said.
To try to boost donations, the UA is conducting a raffle to give away a basketball signed by all members of the UA men's basketball team.
Every person who gives blood during the challenge is entered to win the basketball. The drawing will be held Friday, said psychology senior Samantha Zipp, co-director of the blood challenge.
Zipp said the blood donation process doesn't hurt and takes less than 10 minutes.
Before and after donating, it's important to drink plenty of water to prevent low blood pressure. A snack is also suggested before donating.
Aside from purely philanthropic motives, some students participated in the drive for other perks.
"You get a free T-shirt, but I did it for the cookies at the refreshment table," pre-nursing sophomore Kelly Wisner said yesterday outside one of the on-campus blood drive locations.