Campus Briefs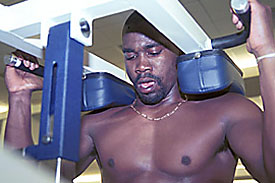 MATT CAPOWSKI/Arizona Daily Wildcat

Senior defensive back Johnny Bailey exercises at the Bill Estes Jr. Family Strength and Conditioning Center, a new facility located within the Eddie Lynch Athletics Pavilion Plaza.

By Jose Ceja
Arizona Daily Wildcat
Thursday August 29, 2002


UA scientists develop vegtable-growing facility for South Pole

South Pole scientists can look forward to eating fresh salad in 2004, thanks to UA scientists.

Researchers at the Amundsen-Scott research station plan to start growing and harvesting their own salad vegetables in a special facility that was built and tested by the College of Agriculture in Tucson.

The South Pole researchers, who now eat packaged food all year, hope the innovations will combat seasonal affective disorder and increase morale.

The main purpose of the project is to find out how fresh vegetables will psychologically affect the research team.

The Amundsen-Scott station is 800 miles from the coast and can reach a low temperature of minus 118 degrees Fahrenheit.

State universities join forces to fight cancer

UA and Northern Arizona University have teamed up to help Native Americans fight cancer after they received a $7.5 million grant this summer from the Minority Institute/Comprehensive Cancer Partnerships, a division of the National Cancer Institute.

The goal of the program is to increase the number of American Indian medical professionals in the Southwest working on cancer research.

The MI/CCP selected the two universities based on NAU's American Indian graduation numbers and UA's recognized cancer research.

The grant will provide American Indian students with state-of-the-art education in cancer treatment and research.

The focus of the partnership is to find a link between the rise of cancer and the mortality rates of American Indians living in the Southwest.

New strength and conditioning center to be unveiled

The athletics department will unveil its new state-of-the-art training facility to the public Sept. 14.

This is the only time that the public will be allowed to tour the Bill Estes Jr. Family Strength and Conditioning Center and the Kasser Medical Treatment Center.

The ribbon-cutting ceremony will take place between 11 a.m. and 2 p.m. outside the new Eddie Lynch Athletics Pavilion Plaza.

The new plaza is located on the north side of the McKale Center, 1 National Championship Drive.

Ceremony attendees will also be able to see the Jim Click Hall of Champions, which will remain open to the public.

Constuction to begin on campus traffic light

New construction may help to curb the stop-and-go traffic around university streets.

Construction for the university's first traffic light has begun at East Second Street and North Mountain Avenue. The construction, which will be done mostly at night, is scheduled to be finished in January.

Accessibility to intersection will not be limited during the day, but at night the intersection will open to local traffic and pedestrians only.