Veteran UA cop hangs up nightstick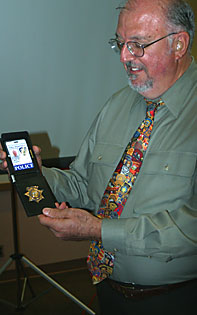 ALYSON E. GROVE/Arizona Daily Wildcat

Cor. Larry Forchione holds a retirement badge presented to him at his retirement party yesterday afternoon. Forchione was with UAPD for 23 years and had been with investigations since 1992. He was reassigned to patrol this past summer, prompting his retirement.

By Devin Simmons
Arizona Daily Wildcat
Tuesday October 22, 2002


"Dependable" is the word that comes to most people's minds when asked about 23-year University of Arizona Police Department veteran Corporal Larry Forchione.

In his time patrolling the streets, Forchione has cracked a number of cases, mentored other officers and formed a family ÷ figuratively and literally ÷ on the force.

There was the time he recovered $25,000 in costumes stolen from backstage of the Broadway production "Les Miserables" when the play came to Centennial Hall in 1999.

All of the stolen property was later found in an apartment and returned to the production, thanks in no small part to Forchione's persistence.

"When he got the case there were absolutely no leads," detective Rolf Averill said. "But he never gave up. He stuck with it and got it done."

Averill has worked with Forchione for 14 years, three of them as his supervisor.

Forchione, who has been in investigations since 1992, decided to hand over his badge after the department reassigned him to patrol this past summer. He said that the department was looking to get some younger, new blood in the investigations section.

"Cops want to be street cops; they don't want to be administrators," Cmdr. Sam Ragland said. "They love the excitement of the field. But you get to a point where you realize that you are not as fast as you used to be. Larry can look back on a wonderful career with great memories."

The UA has grown to be so vast compared to the community Forchione patrolled when he started and Forchione said campus doesn't feel small enough anymore, he said.

Forchione started with the department as a patrol officer in 1981 and eventually was promoted to the rank of corporal in 1991.

In September 1992, he took on the role of a special investigator for the department. In this role, he dealt with a variety of different crimes ÷ everything from sexual assaults to white collar crimes.

Forchione recalled a case in 1989 that involved the theft of $32,000 worth of computer equipment from the Optical Science Annex. The case broke after a conversation he had with a witness over a cup of coffee.

"I was pulling into work and I got out of my car and this guy approached me right in the parking lot," Forchione said.

"We went inside and got some coffee and he opened up to me. And from the information he gave us, we were able to solve the case and recover the stolen goods. It wasn't hardcore police investigating that solved that case, it was just taking the time to sit and listen."

Forchione also established a family within the department.

His son is a motorcycle police officer. After his first wife passed away because of a brain tumor, he met the woman who is now his wife in UAPD's accounting department.

Ragland remembered Forchione's work as a court liaison for the department.

It is the court liaison's job to be the representative of the police department in the courts downtown, filing charges with the courts.

"Larry was well-liked and established with everybody downtown," Ragland said. "He knew the criminal justice system possibly better than anyone else in the region. In that respect, he became a major asset for our department."

Cmdr. Brian Seastone recalls time spent with Forchione when both of them worked up at the

Mt. Graham Observatory complex.

"We had a lot of good laughs," Seastone said. "Larry was very committed to this university and the community ... he will be sorely missed."

The UAPD threw a retirement party for Forchione yesterday afternoon.

Though Forchione is leaving the department, he will still be around campus. Forchione has accepted a job as the UofA Bookstore security supervisor, he said.

"Hopefully I can work there for another 30 years and it will be long and prosperous," Forchione said.