More than 400 students make a difference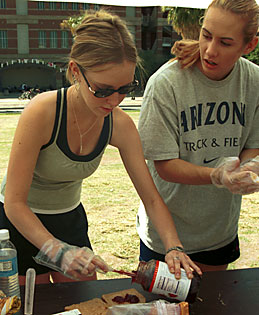 SUSIE LEMONT/Arizona Daily Wildcat

Interdisciplinary studies sophomore Molly Dean and media arts sophomore Chelsea Powell make peanut-butter-and-jelly sandwiches yesterday on the UA Mall. The University Activities Board's "Project Volunteer" is holding a different activity every day this week for Fall Service Week.

By Kaila Wyman
Arizona Daily Wildcat
Wednesday October 23, 2002


Students will be making cards to send to troops overseas telling them how much the UA appreciates their hard work as part of Project Volunteer's Fall Service Week.

Project Volunteer, a philanthropic club sponsored by the University Activities Board, is hosting Fall Service Week, a week dedicated to helping the community.

The week kicked off Monday, when students donated their blood to the United Blood Service.

In the time allotted for blood donation, Courtney Cooper, assistant director for Project Volunteer said that throughout the day there was always a wait to donate.

"It's neat that with all the other blood drives taking place on campus that there is still enough students who want to give blood," she said.

Yesterday, there was a booth set up on the UA Mall where students on their way to class could take a couple of minutes to make a peanut-butter -and-jelly sandwich to donate to the Tucson Community Food Bank.

"Our goal is to make 100 sandwiches, and we are almost there because we are almost out of bread," said Chelsea Powell, co-director of Project Volunteer's Hunger and Poverty Committee.

Project Volunteer is made up of four different committees that work with youth, elderly, hunger and poverty and other philanthropies.

Together, Molly Dean, the co-director of Project Volunteer's hunger and poverty committee, and Powell organized the event on the Mall today.

John Butz, an English senior and full-time research technician in the Optical Sciences Center, stopped by the tent on the Mall to make a peanut- butter-and-jelly sandwich between classes.

"I saw the PB-and-J and I remembered how satisfying they were when I was hungry," he said.

The goal of Fall Service Week is to make 100 items each day, so that by the end of the week more than 400 students have made a difference, Cooper said.

Fall Service Week is unique to the UA and was started two years ago by Project Volunteer.

Today, the goal is to make 100 cards thanking soldiers overseas.

Tomorrow, students will be making Halloween goodie bags for the youth program committee of Project Volunteer÷a program that works to positively affect youth indirectly or directly through education. Friday students will be decorating pumpkins for the elderly.

"So many students are busy on the weekends and can't offer their Saturdays to volunteer; but this week, students can stop by for five minutes and make a difference," said Cooper.

Project Volunteer has one of the largest listservs on campus and is always looking for more participants, she said.

Students can stop by the Project Volunteer tent on the Mall from 10 a.m. to 2 p.m. this week or check out the UAB Web site at http://www.union.arizona.edu/uab and click on Project Volunteer to get involved.

"I heard about it through the web-site and thought it would be a great way to get involved," said Tracy Taylor, an elementary education freshman.

Project Volunteer will be on the Mall from 10 a.m. to 2 p.m. every day this week.