Freshmen face trial by fire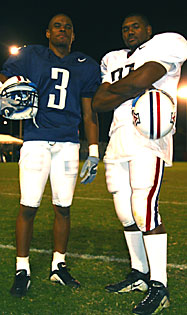 EMILY REID/Arizona Daily Wildcat

Freshmen Jason Martin (left) and Beau Carr (right) have been thrown into the starting lineup as true freshmen in their first season at UA.

By Charles Renning
Arizona Daily Wildcat
Wednesday October 23, 2002


Many young Wildcats giving up redshirts for game uniforms

Imagine that you are an 18-year-old freshman. You are only a year beyond high school and are playing big-time college football. You came to school expecting to redshirt and were looking to learn throughout the season in practice.

But now, by the fifth game, you are forced out of your redshirt year and seeing considerable playing time ÷ something you never expected to happen.

Are you nervous? Are you scared? Are you timid? If you are a Wildcat football player, you aren't ÷ because you can't be.

This was the scenario for freshman cornerback Jason Martin. He had to learn quickly after injuries to junior Michael Jolivette and redshirt freshman Darrell Brooks.

Martin played with UA freshman quarterback Ryan O'Hara ÷ one of a few remaining freshman Wildcats player to still have his red shirt ÷ at Muir High School. He saw his first action in the Wildcats fifth game of the year against Oregon. Martin said it really didn't faze him, despite Oregon having one of the best offenses in the Pacific 10 Conference, not to mention two of the best receivers in the league.

He would be matched up against Keenan Howry and Samie Parker and playing in front of more than 40,000 people. The crowd, the atmosphere and his opponents really didn't bother him.

All he had on his mind was three little words that his coach had been stressing all year long.

"Alignment, assignment, technique," said Martin. "I (ignored) everything else and just had fun while I was out there."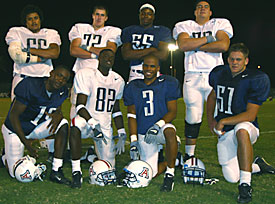 EMILY RIED/Arizona Daily Wildcat
(Top, from left) Kili Lefotu, Tanner Bell, Marcus Smith, John Parada, (Bottom, from left) Lamon Means, Biren Ealy, Jason Martin and Spencer Larsen are all true freshmen who have unexpectedly lost their redshirts this season in order to fill voids left in the Wildcat lineup by injuries to key players.
Martin isn't the only Wildcat who has been faced with the difficulties of jumping right from high school to Division I college football. Many of his teammates are in the same boat and have the same attitude.
"I've been playing since pee-wee league," freshman running back Beau Carr said. "Of course, the collegiate level is a whole different level; but once you get on the field, you just play the game that you know how to play."
Carr saw his first action two weeks ago at Washington, where he scored his first collegiate touchdown. He got his first start last week at Stanford. He was supposed to be the Wildcats fourth running back on the depth chart, but with injuries to last season's Pac-10 rushing leader Clarence Farmer, and with freshmen Mike Bell and Gainus Scott out, Carr had to become the guy.
Because of the rash of injuries that has plagued the Wildcats' this year, the team has been forced to give up many players' redshirt year, something a coach really never wants to do.
"My first expectation was that I was going to redshirt, just learn all that I could, and earn a spot for next year," Carr said.
But as much of the season has gone for the Wildcats, expectations have gone out the window.
No one could have expected that the team would bring over 40 percent of its incoming players on the team's last two road trips. On the team's trip to Washington, 27 of the 60 players had seen little, if any, playing time before. There were 19 freshmen, 13 walk-on players and seven players that had never seen action in a Wildcat uniform. It was more of the same last week, when the team went to Stanford.
Not only do the younger players say they aren't affected by making the jump to college football, but neither are their older teammates, who have to line up alongside the inexperienced players.
"As a team, we expect that anyone who puts on a Wildcat uniform will play well," senior quarterback Jason Johnson said. "I've really been proud of the way those guys have stepped up. All season long, they have all played very well."
With all of the experience that these young players are getting now, it can only mean that they will get better ÷ or at least their head coach, John Mackovic, expects them to.
"They are going to be a lot better players next year," Mackovic said. "We have a nucleus of these young players that is terrific. They have a spirit, they have a will, but they also know that they don't know everything."
One thing is for sure ÷ when next season comes around, these players will know more than expected.