Athlete of the Week: Erica Blasberg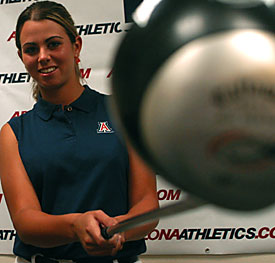 KEVIN KLAUS/Arizona Daily Wildcat

Freshman Erica Blasberg earned her first career individual title with a five-stroke victory last weekend.

By Ross Hammonds
Arizona Daily Wildcat
Wednesday October 23, 2002


Sport: Women's golf
Year: Freshman
Major: undecided
Hometown: Corona, Calif.

Why she won: Blasberg won the Stanford Women's Intercollegiate in Palo Alto, Calif. with a three-under-par final round of 69, claiming her first-ever career victory. After a first round one-over-par 73, she was the only player to finish under par in each of the last two rounds, playing six-under-par in the final 36 holes.

Wildcat: Did you expect success this early?

Blasberg: Yeah, just because I ended my junior career strong.

Wildcat: How does it feel to win by five strokes?

Blasberg: Feels pretty good; it was a strong field. I'm glad I played well enough to be victorious.

Wildcat: What is your favorite cartoon and character?

Blasberg: "The Simpsons." Lisa, because she has an intellect.

Wildcat: What's your mini-golf handicap?

Blasberg: I don't know.

Wildcat: What is your favorite golf club? Stance? Lie?

Blasberg: My lob wedge. Uphill. A fairway bunker.

Wildcat: Which is better, "Caddyshack" or "Caddyshack 2?"

Blasberg: "Caddyshack."

Wildcat: What kind of ball do you play with?

Blasberg: Titleist Pro V1.

Wildcat: What's the worst weather you've ever golfed in?

Blasberg: It was 45 degrees, windy, rainy and miserable.

Wildcat: Where was that?

Blasberg: I don't remember.

Wildcat: How many times have you yelled fore? How about four?

Blasberg: I don't yell fore, but someone in my group probably would.

Wildcat: If you could caddy for anyone, who?

Blasberg: Wow, that's a good question. Annika Sorenstam, because she dominates and is strong.

Wildcat: If you could play golf on any planet, which one would it be?

Blasberg: Wherever there's less gravity so my ball would go farther.

Wildcat: What's the coolest thing you've ever done in a golf cart?

Blasberg: We were trying to cut off a little road on a side of a hill, we got stuck and started sliding down the hill.

Wildcat: Do you want to be a member at Augusta National?

Blasberg: I don't care. There are so many good courses out there.

Wildcat: What are your plans for Family Weekend?

Blasberg: My mom's coming out for the weekend.

Wildcat: What are you guys going to do?

Blasberg: Whatever there is to do.

Wildcat: Word association: fairway.

Blasberg: 16.

Wildcat: Rough.

Blasberg: Not there much.

Wildcat: Sorenstam.

Blasberg: Awesome player, role model.

Wildcat: Green.

Blasberg: Color I see every day.

Wildcat: Corona.

Blasberg: Home and friends.