Seniors Walton, Gardner named to Naismith list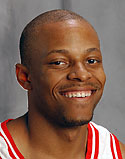 Jason Gardner
Naismith Award nominee

By Staff & Wire Reports
Arizona Daily Wildcat
Wednesday October 23, 2002


Arizona seniors Luke Walton and Jason Gardner head a list of 30 candidates for the Naismith Award, which is given to the nation's top college basketball player.

The list ÷ which was released yesterday ÷ was chosen by a board of selectors made up of leading basketball coaches, journalists and basketball analysts.

Arizona is one of two schools that has two players on the list, Kansas being the other with Nick Collison and Kirk Hinrich.

Four players from the Pacific 10 Conference were nominated in Walton, Gardner, UCLA's Jason Kapono and Oregon's Luke Ridnour.

Western Kentucky's Chris Marcus, a member of the team that UA opens the season with, is on the list. Additionally, former Wildcat recruit Rick Rickert, who now plays for Minnesota, is a candidate.

No UA women's basketball players were on the list of 30 women's candidates but three players from the Pac-10 were on the list ÷ Southern California's Ebony Hoffman and Jocelyn Penn and Stanford's Nicole Powell.

Last year's Naismith Award recipients were Jason Williams (Duke) and Sue Bird (Connecticut).