It has everything to do with you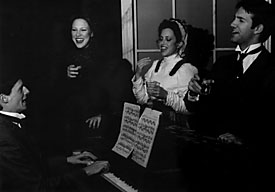 Photo courtesy of the Arizona Repertory Theatre

Chekhov's Play "The Three Sisters" looks deeply into the characters and conflicts of three rich women, unhappy with their lives.

By Lindsay Utz
Arizona Daily Wildcat
Thursday October 24, 2002


Arizona Repertory Theatre looks at the darkness inside with Anton Chekov's ╬The Three Sisters'

In our high-stimuli society, it seems we've come close to total abandonment of stories with depth, stories that force us to face the darkness inside we try so hard to avoid. Bless the theater for giving us, on stage, what we so desperately need to explore in our own lives.

The Arizona Repertory Theatre brings this exploration to campus this month, presenting Anton Chekhov's "The Three Sisters."

Chekhov is known as one of Russia's most treasured storytellers and has been placed among some of the greatest dramatists of all time.

"The Three Sisters" is often considered his most revealing work. The play is a tender but sometimes difficult and heavy look at the darkest depths of human existence.

It takes place in a provincial Russian town, where three sisters live sadly among their riches, longing for the excitement of Moscow, a city they dream will someday free them of their sorrow.

The play is a character-driven piece, with little movement in the plot. What makes this technique so rich is that we experience the dreams and desires of each character, going along on a journey with each of them and finding ourselves in the process.

Working with character-driven material takes acting to a primal level.

"What I found and what the actors found in the rehearsal process was that any one moment could be filled with five different emotions and that's what I really like about (Chekhov)," director Samantha Wyer said.

For most of the students in the repertory program, this is their first experience with Chekhov's work.

For Josh Lamoreaux, who plays an army doctor named Chebutykin, being a Chekhovian character is enjoyable but challenging.

He admires the timelessness of Chekhov. One of Lamoreaux's favorite lines in the play expresses that life in the future "will still be hard and happy and mysterious."

"We all at some point feel that life is hard and happy and mysterious," Lamoreaux

said. "It's the same basic principle even though it was written over a hundred years ago."

Lamoreaux isn't the only actor who feels strongly about the material they are working with.

"(The actors) were real passionate about Chekhov and learning about him, too, so we've all just been working really hard in the last six weeks to try to pay some homage to what he might have been intending when he wrote these characters," Wyer said.
---
Where and When
"The Three Sisters"
Laboratory Theatre:
On the southeast corner of North Park Avenue and East Speedway Boulevard.
Performance Dates:
Oct. 23-26, 31, Nov. 1, 2, 7-9 at 7:30 p.m. and Oct. 27, Nov. 3, 9, 10 at 1:30 p.m.
Admission:
General, $20; senior citizens and UA employees, $18; Students, $14
Tickets available through the UA Fine Arts Box office, 621-1162
---
Working hard may be an understatement. This cast has been rehearsing five days a week, four hours each day, for seven weeks now. And before each show, the cast arrives an hour early to prepare themselves.
"We do a very intense vocal warm up. It's a very physical thing to get us energized, because even though the play seems very subdued and mellow it takes an immense amount of energy," Lamoreaux said.
Being the director of a production such as this one takes an enormous amount of preparation as well. As director, Wyer is responsible for staying true to the material and being able to bring Chekhov's world to our own in an interesting way.
She has seen other Chekhov plays fail because they were overly flat or painful. Although the play is very dark emotionally, it is very colorful and brightly lit. This is the kind of choice the director makes.
"In talking to the design team, we wanted to not make the drama of the play any more dramatic. So what we tried to do is in the design element still keep the lightness and support the lightness whenever possible," Wyer said.
"By the time you get to the fourth act, there's a lot of heaviness going on, but it's a beautiful bright day and that's a lot like life."
Another decision made by Wyer was to have the performance "in the round." This term refers to the unique staging in which the performance takes place in the middle of the theater, with the audience surrounding the actors and stage.
As an actor, Lamoreaux feels that working "in the round" is a more natural setting, though at the same time very intimidating.
"In the round, it's a very intimate space, and it's very daunting to see an audience member standing right in front of you as you're trying to break down on stage or act your heart out," he said.
Responsibility is an issue that not only rests on the cast or crew's shoulders; with a play like "The Three Sisters" it rests just as much on the work the audience is willing to do.
This performance is no spoonful of sugar. There is much to swallow.
Chekhov considered his work to be comedic, and yes, there are some absurd moments; but there is so much in this performance that speaks to us on a more serious level.
You decide if it's appropriate to laugh or cry. But don't deny that this play has nothing to do with you.
"It's a play about people who are really struggling to find their place in life and find out what their meaning in life is," Wyer said. "I can't think of a single person that I know that hasn't at one time or another asked themselves that question."