Make your plans for the Dismemberment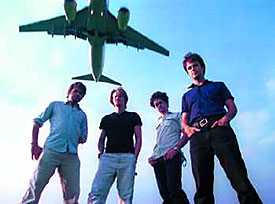 Photo courtesy of DeSoto Records

Dismemberment Plan plays Club Congress Wednesday. The all-ages show begins at 9 p.m.

By Jessica Suarez
Arizona Daily Wildcat
Thursday October 24, 2002


Are you the kind of person that stands around and looks bored at concerts? Do you cross your arms, roll your eyes, and dismiss every song as being "OK, sort of" or "alright, I guess?" Then, my child, God has a Plan for you.

Well, maybe not God, but Travis Morrison, singer, guitarist and songwriter for Washington, D.C., band Dismemberment Plan does: How about you look a little happier to be watching his band? Morrison's damned happy to be playing, and he makes it pretty obvious.

"I'm pretty much that happy. There isn't a whole lot to worry about, and most of it does not pertain to my life. I've always enjoyed getting on stage and playing music," he said.

"A lot of punk bands get on stage and look as if they're waiting for their laundry to get done. I guess I just have a good attitude on stage. I do seem to broadcast a certain amount of ╬joie de vivre,' he said. "

Despite the death-metal-sounding name, The Dismemberment Plan, who play Club Congess, 311 E. Congress St., on Wednesday, are a pretty happy-sounding band. "Post-punk" and "angular" are two other words you could use to describe them, but those don't quite capture the band's sound. Their last album, Change, was a change in direction for the band from their Interscope release, Emergency & I. The samples and keyboards were still there, as well as Morrison's clever self-depreciating lyrics. But the quick time-changes gave way to, well, something you could dance to. Morrison, however, doesn't think Dismemberment Plan's fans were surprised.

"I think people know at this point that we're kind of eclectic, we've been so eclectic, if they were surprised they just don't understand what we're about," Morrison said.

But the Dismemberment Plan (or D Plan, or Dis. Plan, or just the Plan, the band doesn't care) do know how to give the fans what they want. Last year, the band toured with their friends Death Cab for Cutie. The tour was called, inevitably, The Death and Dismemberment Tour.

"You know we had been talking about the tour, and people said, ╬You know you're going to have to name it the Death and Dismemberment Tour,'" said Morrison.

"We never made any T-shirts Ě no, shit, we did," he said.

Dismemberment Plan also spent some time touring Japan and opening for Pearl Jam on their tour, an experience he calls "fantastic."

"They're great people and they're a great band," Morrison said. "We got to drive around Europe and get paid for it."

One treat Iowa fans got when the D Plan stopped in their town was a "truly spastic," dance routine by Morrison's 5-year-old nephew. Maybe the kid has a musical future?

"He shows some interest in music. He actually has shown a pretty remarkable ability to pick out melodies. This Christmas I'm going to buy him a toy drum set," said Morrison.

The band, which gets its name from a line in the movie "Groundhog Day" (an insurance salesman keeps on insisting Bill Murray get the ╬dismemberment plan'), wants to see their audiences have as much fun as they do. They made fun of indie rock crowds in their song, "Doing the Standing Still." In it, Morrison sings, "In Fargo, six or seven kids / Watched the Plan in a strip-mall / I thought they were bored out of their skulls / But it turns out they were having a ball." Lots of the Plan's songs sound like they're true stories, but most are fictional stories based on things that have happened to Morrison's friends. One example is "The Ice of Boston," from their album Emergency & I, where a man spends his New Year's Day alone after following a girl he was in love with to Boston.

"It's not a true story, it's kind of a metaphor for things, mistakes a lot of people make when they follow around other people, that happens quite a bit," said Morrison.

"All my friends did it but I didn't do it. I never moved after anybody, I've always tried to write about other people, if I tried to write about me, it's hard, because I'm too close to it," he said.

Their show on Wednesday marks the third time Dis Plan has made it to Tucson.

"We've played there, Solar Culture, like three times before. It's a great town, kind of cooler than Phoenix. People always come up to you (in Phoenix) and say ╬We're sorry for how bad Phoenix is.' We had a good show last time, at Nita's Hideaway, but the percentage culture is a lot higher in Tucson than in Phoenix," he said.

"Phoenix has too many retired colonels."