Cinema Showdown: ╬Ghost Ship'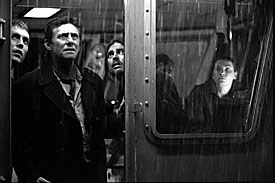 Photo courtesy of Warner Bros. Pictures

It ain't the size of the wave that matters, but the movie still sucks: "Ghost Ship," starring Julianna Margulies, opens tomorrow.

Arizona Daily Wildcat
Thursday October 24, 2002


Betancourt: "Ghost Ship" might actually be the worst movie I've ever seen.

Utz: Yeah, let's talk about something else.

Betancourt: What are your thoughts on people?

Utz: I was in a Circle K the other day and a little, confused old lady came in and told the cashier that the gas wasn't pumping. The angst-ridden Circle K employee responded by yelling at the fragile elderly woman about how she has to pay before pumping. "Pay before you pump, pay before you pump!" screamed the middle-aged bitch, while waving her Lee Press-On Nails at the little old lady.

Betancourt: So, people are cruel?

Utz: You bet.

Betancourt: This summer, I was in Paris, in one of the train stations fresh from London off the Eurostar. It was late at night and this man with some kind of skin deformity on his cheek asked me if I needed any help. "Yeah," I said, and I smiled a lot and thanked him while he showed me which metro trains to get on and bought me a ticket and explained how to go through the gates when I left the station at the other end. I thanked him again in my crude French and he waved to me as he walked away and as I went through the turnstile, two of his young accomplices picked my wallet clean in less than a second. It's not exactly cruelty. In fact I kind of enjoyed it. Sure they robbed me, but we were all very friendly about it.

Utz: Yeah, if only we could all be a little nicer about our cruelties.

Betancourt: Precisely. But I think people are much more inclined to be pleasant than not. Even if they're ripping you off.

Utz: There is this schizophrenic woman that walks up and down my street. Well, I'm not really sure if she is schizophrenic or just a crack addict. She walks down the street, under the hot sun, everyday, dressed in '70s clothing and always carrying some new strange object, like a lampshade or something. The other day, she came to the door and asked me if her daughter was home. I wasn't frightened by her yellow-eyed stare. Instead, I invited her for tea.

Betancourt: Really? Wow.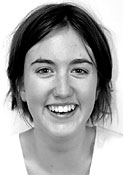 Lindsay Utz
GoWild columnist

Utz: "Ghost Ship" has some really great pink "Loveboat"-esque titles at the beginning of the film. Actually, the opening scene is really shocking, grotesque and excellent. But the longer the film goes on, the more painful it becomes. Then it happens: You start thinking about how many starving children could've been fed with the money it took to make this awful, awful film or what else you could be doing instead of watching the film, like clipping your toenails or something.

Betancourt: I don't want to talk about it.

Utz: What do you think about the disappearance of slap bracelets? Shameful, huh?

Betancourt: Stalin killed millions of people.

Utz: Hitler's three wives all killed themselves.

Betancourt: So did all the people who've won Darwin awards. There's something friendly about their deaths, though. Sure, they're dead. But it's all part of some great gesture of good faith. Somehow we have the right to nod to their memories and say, "Hey, man, I kinda get why you strapped a solid fuel rocket to your car."

Utz: In The Onion last week, there was a headline that said, "Baby Found On Doorstep Moved To Neighbor's Doorstep."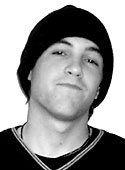 Mark Betancourt
GoWild columnist

Betancourt: Ah, The Onion.

Utz: Isn't it a nice feeling when someone kisses you on the cheek, and you get all rosy?

Betancourt: It's one of my favorites. It's especially nice when, in the moment, you can't think of a reason not to blush fast enough. You glance at the cards you've spread haphazardly and at the ones you've kept foolishly to yourself, and the blood comes whether you believe in it or not, whether you can reason with it or not. It comes and it sparkles in your eyes, and even as it fades away you feel freed somehow, vindicated by a simplicity no chasing will ever catch. For the moment, you are allowed to live in grace, justified in the blood by nature, unraveled by the sweet, persistent innocence of mortality before becoming lost again in the inevitable floods of thought.

Utz: It's kind of like when you sit down in a warm seat and you can still feel the previous ass.

Betancourt: Yeah, it's kinda like that, I guess.

Utz: Yeah.

Betancourt: So Ě

Utz: Skateboarding is not a crime.

Betancourt: No, it's not. But the other day I heard this story on NPR about how all these skaters in Seattle or somewhere were getting all pissed off because the city wouldn't let them skate in this really nice community square. They were destroying the stone-work, like actually chipping and cracking and wearing down all the marble and stuff in this public place, and the city people were like, listen, skateboarding is not a crime but you can't just destroy stuff like this, especially when the whole point is that everyone can come and enjoy this place for free. And the skateboarders were all up in arms.

Utz: Yeah, so don't go see "Ghost Ship."

Betancourt: It's inexcusable. Go read a book.