Bynum making believers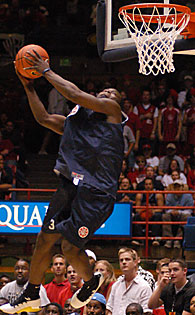 SAUL LOEB/Arizona Daily Wildcat

High-flying sophomore guard Will Bynum, who is expected to play a larger role this season, tried to repeat as Midnight Madness dunk contest champion with this reverse dunk, but eventually lost.

By Maxx Wolfson
Arizona Daily Wildcat
Wednesday October 30, 2002


After struggling through his freshman season, Will Bynum is back to help in any way he can

Two weeks ago, Will Bynum was encircled by a horde of media members. He was answering questions left and right about how the team is going to respond to being ranked preseason No. 1, about the four new freshmen and so on.

Then one reporter dropped the bomb, saying "Will, I'm surprised to see you back this year."

The rest of the media members stopped and anxiously awaited the answer to the question.

Bynum blushed and said, "I'm just happy to be around these guys. I'm definitely not going anywhere for a long time."

There it is, done, settled. Bynum is not going anywhere this season, or anytime soon, in fact; even though many never thought he would be back for his second season in the desert.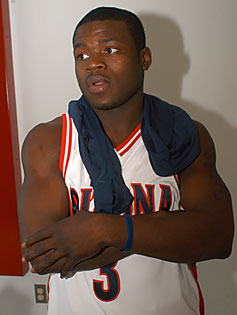 Will Bynum
UA sophomore guard
The lightning-fast guard is a year removed from a season in which he was forced to ride the bench for 25 minutes a game because of an overload at the guard position and selfish play when he had the basketball.
"I know I probably looked bad at times," said Bynum about his play last year.
Many thought that the team's shortest player would transfer after he flew straight home to Chicago, his hometown, halfway through the UA basketball team's trip to Australia last May.
But now Bynum, arguably the team's most athletic player, is back in Tucson and is willing to do anything possible to improve the team.
"I would be happy playing 10 minutes a game," said Bynum, who averaged 14.9 minutes, 6.4 points and 1.4 assists in 2001-02. "Whatever I can do to help out this basketball team. I love playing with these guys."
But what has been even more surprising about the high-flyer is his new style of play on the basketball court, which head coach Lute Olson learned about from senior guard Jason Gardner and others in the offseason.
"They said, ╬You won't recognize Will from how he's playing now and how he played a year ago,'" Olson said. "What they said has certainly been shown in our practice situations. He's improved a lot from a year ago. The biggest thing is it's all about team now, instead of doing a lot of messing around with the ball."
The new-look Bynum came out to play in Saturday's scrimmage, where he was matched up with Gardner for the entire 40 minutes.
Even though he didn't get the best of Gardner in the final score, his play showed that he has matured on the court.
What the 5-foot-10, 188-pound sophomore also showed is that he is more prepared to take on the role of backup point guard behind Gardner or any other position that Olson can fit him in.
"I'll be happy at any position coach puts me at," Bynum said. "I know what's expected."
One of Olson's favorite sayings is: "It's often said that a college basketball player grows more between his freshman and sophomore year than in any other year."
So far, Olson seems to be right on.