Jolivette one week away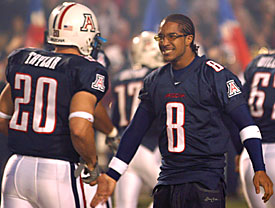 KEVIN KLAUS/Arizona Daily Wildcat

Sophomore defensive back Michael Jolivette (8) is itching to get back on the field and pick up where he left off before his knee injury during practice in September. He could return in two weeks.

By Charles Renning
Arizona Daily Wildcat
Wednesday October 30, 2002


Michael Jolivette is just itching to get back on the field.

For the first time since the junior cornerback injured his knee on Sept. 18, head coach John Mackovic hinted at the idea Monday that he could be back on the field sooner than expected.

Jolivette has been wearing a new brace on his knee this week that will allow more movement while doing footwork drills to help get his knee back into playing shape.

"It's a matter of how comfortable he is with it and if can he still back peddle, plant and go," said Mackovic. "If there is any way that he can get on the field, he will contribute."

Jolivette is still listed as "out" for the Wildcats' weekend game against Oregon State, but according to Mackovic, the best-case scenario would be that he returns for the UCLA game in 11 days.

"If I do everything I need to do and I try not to miss any rehabs, hopefully I can be back next week," Jolivette said.

The return of Jolivette could be the one little thing that puts the Wildcats over the hump victorywise, or at least some of his teammates said they hope so.

"Since he's been gone, someone has taken the job and stepped up and the defense has played better and better every week," senior linebacker Lance Briggs said. "But having Jolivette back is just one of those priceless things."

Jolivette injured his knee in practice three days before the Wildcats' 31-10 loss to Wisconsin, and has been replaced by freshman Jason Martin and junior Gary Love in the starting lineup.

First thoughts were that the Houston native tore or partially tore the ligament in his knee, but it was later revealed that he suffered a stretched ACL, a sprain of the medial collateral ligament and damage to the posterior cruciate ligament.

He still thought at the time that he would likely miss the rest of the season with the injury, and had only a slight possibility of coming back for the season finale against Arizona State.

However, if Jolivette is able to play in the final three games for the Wildcats, it could be good news for the UA secondary.

"(Sitting out) has been really hard, especially when we are losing," Jolivette said. "It's even harder when you come and hear and watch, when you know you can make something happen on the field."

"It will bring the best defensive back in the Pac-10 back," Briggs said. "We have quality guys out there, but I think he's the best."