Athlete of the Week: Bre Ladd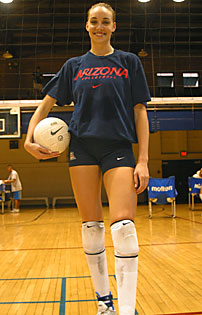 DAVID HARDEN/Arizona Daily Wildcat

Freshman Bre Ladd is beginning to live up to her lofty expectations and, after her impressive performance against Arizona State, she earned the Wildcat Athlete of the Week.

By Brian Penso
Arizona Daily Wildcat
Wednesday October 30, 2002


Sport: Volleyball
Year: Freshman
Major: Nursing
Hometown: Tucson

Why she won: Ladd played an instrumental role in Arizona's 3-0 sweep of in-state rival Arizona State on Friday night. Ladd finished the match with 10 kills on a match high .571 hitting percentage. Her play over the past three weeks has helped the Wildcats win five our of their last six matches to move into a tie for third place in the Pacific 10 Conference.

Wildcat: What is your favorite movie?

Ladd: "Pretty Woman."

Wildcat: If one actress could play you in your life story, who would if be?

Ladd: Natalie Portman.

Wildcat: What is your favorite television show?

Ladd: "Friends," because it's hilarious.

Wildcat: What is the first thing that you do in the morning?

Ladd: Brush my teeth.

Wildcat: What are you going to dress up as for Halloween?

Ladd: A Las Vegas showgirl.

Wildcat: When was the last time you went trick-or-treating?

Ladd: When I was a freshman in high school.

Wildcat: What is the most embarrassing moment in your life?

Ladd: When my bathing suit top fell off in the water in Rocky Point.

Wildcat: Who is your favorite professional athlete?

Ladd: Michael Jordan, because he is the greatest competitor.

Wildcat: Besides playing volleyball, what is your favorite thing to do?

Ladd: I am a shopaholic.

Wildcat: Word association: Bre Ladd.

Ladd: Volleyball player.

Wildcat: Middle blocker.

Ladd: Competitor.

Wildcat: Tucson.

Ladd: My hometown.

Wildcat: Fellow freshman Kim Glass.

Ladd: Extraordinary and tremendous.

Wildcat: Coach Rubio.

Ladd: Motivating.

Wildcat: Arizona women's volleyball.

Ladd: Awesome.