Rubio wants Wildcats back in Bear Down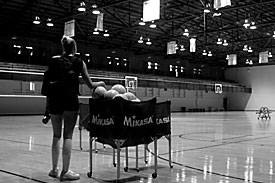 DAVID HARDEN/Arizona Daily Wildcat

Bear Down Gym could see Division I action once again if the Arizona volleyball team gets its wish.

By James Kelley
Arizona Daily Wildcat
Tuesday November 26, 2002


If head volleyball coach David Rubio gets his wish, his team will stop playing its games in McKale Center and move to the smaller Bear Down Gym.

Despite having the highest average attendance in the Pac-10, breaking the school total attendance mark this year and being ranked seventh nationally in attendance for Division I schools while playing in the 14,525-seat McKale Center, Rubio is still attempting to get the team moved into Bear Down Gym, which would be a potentially more intimidating volleyball venue.

"It is absolutely a long-term goal to have volleyball in Bear Down," Rubio said. "I think playing (in Bear Down) would take volleyball to an unprecedented level."

But the building is currently under the control of the Department of Campus Recreation, since Intercollegiate Athletics moved out of the gym in the '70s.

Potentially, Bear Down could hold 3,000 to 5,000 spectators. The volleyball team averages about 1,900 people without factoring in the Midnight Madness match, said athletics director Jim Livengood, who supervised a similar move when he was the athletic director at Washington State.

"It's hard to find money to renovate because McKale is a great volleyball venue," Rubio said. "I know that Jim Livengood is behind me, and he supports volleyball playing in Bear Down."

While currently there is an $88,000 renovation/adaptive reuse study being done on Bear Down, it has nothing to do with athletics. In fact, the department may not have wanted to be part of it. Campus Rec is looking into basic renovations, such as the basement area, to see how much they will cost long term. The department also has other plans, like adding to the south part of the building five to seven years down the road, said Juliette Moore, director of campus recreation.

"We talked with ICA initially before the study, and they were not interested. That was at least two years ago," Moore said.

To get into Bear Down, Rubio is considering less dramatic changes like adding bleachers.

"It's number one on top of my wish list, but with the economy, it's on the bottom of the university's list," Rubio said. "Next year, we are going to visit the idea of seeing how much it would cost to add bleachers."

Even just adding bleachers could be problematic, Moore said.

"It would be tough ÷ part of the problem is, it's not handicapped accessible," Moore said.

The reuse study, which should be done in December, is still in the process and any real info on cost would be a bit "premature," said Bruce Dawson, senior architect, facilities design and construction design project manager for the study.

The athletic department would like to work out some way where it can share some time or trade some time with Campus Rec for Bear Down, where the volleyball team practices in the latter part of the season, Livengood said.

"Our interest in Bear Down would be that we think it would be a tremendous women's volleyball facility, and we're probably one of the last that has this many programs operating in the same facility," Livengood said.

Bear Down Gym, which is on the National Register of Historic Places, was built in 1926, the same year that quarterback and student body president John "Button" Salmon died. After he told football Head Coach J.F. "Pop" McKale with his last words to the team, "Tell them ... tell the team to bear down," it was painted on the roof of the gym, and the building was renamed from the Men's Gym.

The athletic department may even consider going the way of Texas, which built a separate volleyball facility.

Livengood said the athletic department may consider the construction of another facility at a later date.

Brian Penso contributed to this report.