Picture Perfect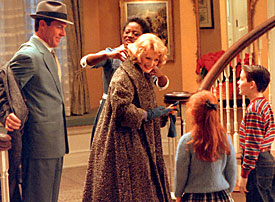 Photo courtesy of Focus Features

Dennis Quaid, far left, and Julianne Moore, front center, star in "Far From Heaven," a new film from Todd Haynes. The film is in theatres now.

By Lindsay Utz
Arizona Daily Wildcat
Tuesday November 26, 2002


Technicolor melodrama won't leave viewers feeling too ╬Far from Heaven'

Oh, how happy the 1950s housewife is. Smiling as she vacuums the living room floor. Her children are so charming, always so well behaved and excited about their chores. But what really holds this family together is Dad. He works hard and, at the end of the day, deserves a hot meal.

The '50s churn up visions of finely clipped green lawns, children saying the Pledge of Allegiance with pride, and Mother hollering "Dinnertime!" from the front door. Each decade has its multitude of clichÄs and bold images such as these, chiseled into our minds like an old Time magazine cover.

What lies beneath all the pretty images of '50s America is not always pleasant stuff, but it sure does make for good melodrama. Inspired by the grand Hollywood dramas of that era, Todd Haynes ("Safe," "Velvet Goldmine") brings us "Far From Heaven," a period melodrama film that confronts the repressed sexuality, racism and sexism living quietly behind the white picket fences of classic American suburbia.

It is the fall of 1957 and suburbia looks like a red, orange and yellow wonderland. "Heaven" tells the story of a privileged housewife, Cathy Whitaker (Julianne Moore) whose daily agenda includes waving goodbye to the children as they board the yellow school bus, preparing for social events and supervising the maid's waxing of the dining room table.

An encounter with the handsome black gardener leaves her curious and wanting more, especially when put in a vulnerable state due to the discovery of her husband's big dark secret.

But she'll do just about anything for her husband, Frank Whitaker (Dennis Quaid). Even as his private life is falling apart, she stands by him, like a good woman, apron-clad, hands clasped and smiling.

Cathy is different from her bourgeois lady friends because, unlike them, she is not blinded by the suburban sphere in which she lives. She's considered scandalous by the townspeople, breaking tight moral and social taboos, and still cannot understand why everyone is whispering.

Moore's performance is forceful and fragile, focused and graceful. We laugh with her, we cry with her, we hide with her. She is sweet in her despair, innocent as a child and wise as a woman, with an elating silent giggle that makes you love her even more.

Although we spend the first 10 minutes adjusting to what now seems a ridiculous representation of the '50s American family, we quickly become involved and fascinated with this land of seeming perfection, throbbing with dysfunction from below.

Dysfunction intrigues us, and most especially so when what we always thought was flawless is really just as imperfect as us all.

Visually, this is one of the most exciting films I've ever seen. Everything is so pretty and perfect, from the trees to the overcoats to the freckled children.

The problem I have with this film is that there is no problem. This may well be the year's most picture-perfect film.