ÎThe biggest game of the year'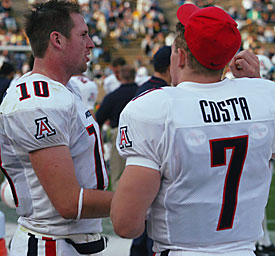 KEVIN KLAUS/Arizona Daily Wildcat

Senior Jason Johnson (left) will suit up for the last time as Arizona's starting quarterback Friday against Arizona State. One possible replacement for next year is redshirt freshman Nic Costa (right).

By Charles Renning
Arizona Daily Wildcat
Wednesday November 27, 2002


Senior quarterback Jason Johnson said it best when asked about the rivalry between Arizona and Arizona State.

He said that all the clichŽs apply.

"It's the biggest game of the year. You can throw out all the records," Johnson said. "We are just going to try and go out with a bang."

The Wildcats (4-7, 1-6 Pacific 10 Conference) will play the Sun Devils (7-5, 4-3) in the 76th edition of the "Duel in the Desert" Friday at 1 p.m. in Arizona Stadium.

Arizona and ASU will not only be playing for state bragging rights, but the teams will also be playing for the oldest intercollegiate rivalry trophy in the nation ÷ the Territorial Championship Cup.

The series between the two schools started on Nov. 30, 1899, when Tempe Normal School (now ASU) defeated Arizona 11-2 in Tucson. The teams have played 74 other times, and annually since 1946.
---
If you go ·
What: Arizona vs Arizona State
Where: Arizona Stadium
When: Friday Nov. 29 1 p.m.
TV: Fox Sports Net
---
However, after what happened last year following the Wildcats' 34-21 win in Tempe, the rivalry could be at its most heated point.
As players shook hands after last year's game, a fight broke out following an incident involving Wildcat players stomping on the ASU mascot painted at midfield. It took several minutes to separate the two teams and neither team has forgotten what happened.
ASU head coach Dirk Koetter got his first taste of the rivalry last year and got a little bit of a rude introduction.
"It wasn't a fun introduction a year ago," said Koetter.
He added that before every season, his team will set six goals for the year, and to beat the Wildcats is always one of those six.
"Rivalry games are what make college football what it is," he said. "It makes it exciting for the fans, players and the coaches."
Last season was also Arizona head coach John Mackovic's first year at the helm of the Wildcats.
Mackovic said that he doesn't have to do much to get his players emotionally ready for the game against the intrastate rival.
"(Emotion) builds all week," Mackovic said. "You don't have to say too much because so many other people are talking."
However, the players weren't as nice in their comments towards the Sun Devils.
"I hate those guys," senior defensive tackle Young Thompson said. "With their namesake and all, they can go back to hell where they are from and burn there."
The bad blood doesn't come from just the upperclassmen.
"We don't like them and they don't like us," said freshman running back Gainus Scott.
Even players that have never played a down in this rivalry still know the importance of this game. Freshmen redshirts Darrel Brooks and Scott didn't play in last year's game, but both said they could feel the intensity from the sidelines.
"It was intense last year," Brooks said. "I had never seen anything like that before; the fans were nuts, the players were nuts. It is a real hatred out there. I'm just excited to be involved in it this year."
A big key in this year's game will be the play of two of the best receivers in the Pacific-10 Conference. Both Arizona senior Bobby Wade and ASU junior Shaun McDonald will play big roles in the game's outcome.
Both receivers have many similarities, size, speed and numbers, but the real difference in the two is how each school uses their talented wide outs.
Wade is used more as an underneath receiver than can catch balls and avoid would be tackler, whereas McDonald is a straight speed guy.
Wade is Arizona's career leader in receptions with 224. He currently leads the Pac-10 in receptions per game, receiving yards per game, all-purpose yards and punt return yards per game.
McDonald has been the Sun Devils' leading pass catcher the last two years. He currently holds the ASU record for most receptions in a season (75) and receiving yards in a season (1,280). McDonald ranks third in the Pac-10 in receiving yards and receptions per game. He is also one of three national finalists for the Biletnikoff Awards, which is given to the top receiver in the nation.
"(MacDonald) is very explosive and is more of a deep threat than any one we have faced all year," said Brooks.
This game is very often the biggest sporting event of the year in the state of Arizona and this year should be no different.
"This is a real big game," senior defensive tackle Young Thompson said. "The state of Arizona will be divided for a week, just for this game. It's a real big rivalry."