Hoops readies for its own in-state rivalry with NAU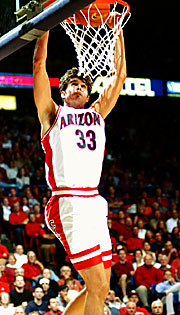 KEVIN KLAUS/Arizona Daily Wildcat

Senior forward Rick Anderson and the top-ranked Wildcats take on Northern Arizona tonight at 6:30 in McKale Center. Despite the apparent mismatch, Anderson said tonight's game against the Lumberjacks could be much closer than many think.

By Jeff Lund
Arizona Daily Wildcat
Wednesday November 27, 2002


If senior forward Rick Anderson saw fear in the eyes of No. 19 Western Kentucky's' players during last week's 39-point blowout at McKale Center, it might be hard for him to articulate what he might see tonight as the Wildcats take on Northern Arizona at 6:30.

To say that Arizona is the favorite is a gross understatement, but the Wildcats are treating it like any other game.

"They are looking to make a name for themselves," sophomore center Channing Frye said. "They are waiting for the chance."

The Lumberjacks will be looking to clear their name following a 70-65 loss to High Point on Friday.

Not exactly a great confidence boost, although NAU did respond with an overtime win over St. Peter's.

Though similarities are hard to find, the game between the ĪJacks and Cats goes back a long way.
---
Sideline notes
Sophomore guard Salim Stoudamire will not play against NAU. Olson said his ankle has healed to the point where he could play, but no chances will be taken. He also said Stoudamire will more than likely retain his starting position and not "be punished for being injured."
---
Head coach Lute Olson said any game against a different opponent is valuable, and no matter how big the odds are in Arizona's favor, it's the experience that makes the game important.
"At this point, we need to face other people and make adjustments," Olson said. "The competition every day in practice is important, but on the other hand we need to see people running different things on offense and defense."
Olson pointed to how Western Kentucky adjusted to Arizona's press, forcing minor modifications to be made.
On the surface, tonight's game seems nothing but just another game. But underneath the surface is a long history.
The two teams have battled 112 times since 1919, with Arizona winning 85 times.
However, four of the first six victories went the way of the axe-bearers.
Though the not-so-annual matchup began 83 years ago, it wasn't until the 1940s when the Wildcats started to dominate the series.
Ever since, it has been clear which team has the basketball program, but in recent years, each program's game schedules have not featured one another.
Since 1982, NAU and UA have only tipped off 10 times, with Arizona winning all of the games, highlighted by a 100-64 win in Flagstaff in 1990, and a 122-81 drubbing in Tucson.
However, in more recent history, games have been much more competitive.
During the 1996-97 season in which the Wildcats won the national championship, the Lumberjacks put up a fight but ended up losing by 18.
In 2000, NAU came to McKale Center and nearly pulled a huge upset, losing by just five points. But the opponent was not Arizona.
It was in the 2000 NCAA first round against second-seeded St. John's.
The fact remains that NAU has never upset or played a No. 1 team, never toppled a ranked team and never defeated an Arizona team coached by Olson.
As for any predictions this time around, Anderson was quick to point out that this game will not be a pushover, despite the seemingly overwhelming odds.
"We have to come out like animals. If we come out with the same intensity we did against Western Kentucky, it will be the same," Anderson said. "If we come out not aggressive, it will be a different ball game."
Anderson did, however, make a gibe at NAU senior guard Chris Ferguson.
"My buddy Chris Ferguson is on the team," he said, laughing. "We go way back. I expect him to turn the ball over many times."