Women face another top-10 team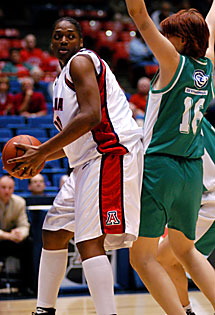 SAUL LOEB/Arizona Daily Wildcat

Redshirt freshman Shawntinice Polk will have to have another huge game for the Wildcats to upset No. 9 Georgia on Saturday.

By Jeff Lund
Arizona Daily Wildcat
Wednesday November 27, 2002


Arizona didn't have a ranking, but nearly had No. 3 Louisiana State's number in last week's heartbreaking 78-71 loss.

Saturday, the Wildcats will try and bring another top-10 team back down to earth as they take on No. 9 Georgia at 4 p.m. in McKale Center.

Once again Arizona will be tested, this time by the sheer size of the UGA front court.

Six of the players on the Bulldog roster are 6-foot-2 or taller.

"This team is much, much bigger (than LSU)," head coach Joan Bonvicini said. "It's going to be much different than the other games."

Bonvicini said that in her team's 12-point win over Pepperdine Monday night, the team defense stepped up when it needed to, and it will need a similar effort in Saturday's game ÷÷ except this time, the effort needs to be for 40 minutes.

"We did a good job defensively

in the second half," Bonvicini said. "That's going to help us. Defensively, we need to be smart and pressure when we can and play good defense."

Fortunately, Georgia does not boast the quickness that the LSU lineup was littered with. This will allow the Wildcats to use the full-court press and utilize their bench depth.

However, this could present a problem as well.

Bonvicini said that in order to be successful, more production from the reserves is necessary.

"We need better production from our bench," she said. "That will come with time."

The Bulldogs, much like fellow Southeastern Conference foe LSU, are highly ranked after showing an abundance of promise last season.

Georgia opened with 11 straight wins but stumbled through conference play and won just eight of 19 to close the season.

The Bulldogs did, however, receive a bid to the NCAA tournament, where they lost in the first round to Old Dominion.

The Bulldogs return 71.7 percent of their point output and three starters from last season's tournament team.

UGA is led by 6-foot-6 center Kara Braxton, who averaged 16.3 points per game and 6.8 rebounds as a freshman last season.

Not surprisingly, she was named SEC Freshman of the Year, and to the All-SEC second team.

Braxton's height and ability will be another big challenge for Arizona redshirt freshman Shawntinice Polk.

Thus far, Polk has been up to the challenges.

Polk did more than just hold her own against the high-profile LSU squad, as she scored 29 points and grabbed 11 rebounds while holding the starting Tiger center to 15 points on 4-of-16 shooting from the field.

In Monday's game at Pepperdine, Polk impressed again, scoring 16 points and securing 14 rebounds.

With the strong showing in both of its games, Arizona has gotten the attention of its opponents and sports writers, as Bonvicini's club received 11 votes in the AP Top 25 poll.

"(The players) are very excited," Bonvicini said. "We are going in for the win."