Liberated Voices speaks of apartheid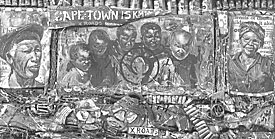 Photo Courtesy of UA Museum of Art

Willie Bester's "Xroads" is on display at the UA Museum of Art. The mixed media collage is a part of the Liberated Voices exhibit focusing on South African experiences of apartheid. The show runs through Oct. 13.

By Biz Bledsoe
Arizona Daily Wildcat
Thursday September 5, 2002


Show featuring over 65 pieces from New York's Museum for African Art make their only Arizona stop at UA Art Museum

The UA Museum of Art is now presenting Liberated Voices: Contemporary Art from South Africa, until Oct. 13. The exhibit, which features work from 13 young South African artists, contains over 65 pieces and was organized by the Museum for African Art in New York.

The exhibit is making its sole stop in Arizona at the campus art museum. The museum garnered this honor partly through a connection to UA alumna Laurie Ann Farrell, who is now an associate curator at MAA, said Alisa Z. Shorr, a public information specialist at the campus art museum.

"Peter Briggs, who is (the UA Museum of Art's) curator, really wanted this show to come to Tucson," Shorr said.

The works find relevancy through their exploration of the resistance art that is common in South Africa due to the apartheid era, the laws for which were enacted in the country in 1948.

Though apartheid ended in 1994, the country is still experiencing social tensions which are the root of the exhibit. Mark D'Amato, one of the curators of Liberated Voices, wrote in the exhibit catalogue that the "resistance aesthetic" involves "artists who take an active role · to affect change in the status quo."

The show does not include photographs of the artists for an important reason.

"These are all artists of South Africa, and we're not going to specify (race). They are all artists who were affected by apartheid and reacted to it," said Shorr. "It's clearly not the central point."

The exhibit features art in every format, from high-tech video to photography to mixed-media collages. Shorr explains why the wide array of artistic media is used by the artists.

"It was a conscious choice to show the range of materials that can express these complex and challenging issues," Shorr said.

Racial segregation, poverty and inequality are some of the painful effects of apartheid the artists confront in their works.

Though contrasting in form and content, all the pieces come together to explore the methods through which the artists have coped with these issues.

"These artists consciously said, ĪI'm going to deal with the political and social situation,'" Shorr said. "The exhibit reflects their differing methods for doing this."

Some of the artists' pieces display colorful, emotional images that are often chaotic, such as Willie Bester's "Xroads."

The mixed media collage features recycled and found materials, such as newspapers, cans, wire and tin, combined with oil paint and photographs, to create a vibrant depiction of his personal struggle with injustice.

"In spite of economic degradation, the spirit of humanity still triumphs," the placard next to "Xroads" states.

The use of old and found materials also serves to illustrate the poverty under which many blacks in South Africa still live; the townships where black people were forced to live under segregation were often also the dumping grounds of local industrial plants.

However, not all of the exhibit's pieces use modern materials and look contemporary. There are several rustic-looking pieces made with nothing more than Hessian, pigments and sticks. An example of this is a piece that contrasts Bester's, called "Abduction of the Text," by Sandile Zulu. The work is made of natural elements, such as soil, fire and water, along with manmade materials like metal, to symbolically illustrate the effects of colonialism and industry on South Africans' lifestyles.

"It's rare to get to see contemporary South African art, and (the exhibit) is so different than reading a political commentary," Shorr said. "It's really a mixture of the personal and the political.

"This really gives you an entrance into thinking about and confronting apartheid."

There have already been several events at the museum to celebrate Liberated Voices, which opened Aug. 23 including a guided tour by Farrell. Call 621-7567 for information or go to www.artmuseum.arizona.edu.