Arts Calendar

By Lisa Schumaier
Arizona Daily Wildcat
Thursday September 5, 2002


Films
---
City By The Sea (Warner)
Swimfan (Fox)
Rentals
"The Salton Sea" (Warner Bros)
"CQ" (Metro-Goldwyn-Mayer)
"Lost Voyage" (First Look Pictures)
"Green Dragon" (Columbia Tristar)
"Changing Lanes" (Paramount Pictures)
"Son of the Bride" (Sony Pictures Classics)
"Time of Favor" (Kino International)
Music
---
Authority Zero A Passage in Time (Lava/Atlantic)
Bangs Call & Response (EP) (PNMV/Kill Rock Stars)
Broken Spindles (The Faint's Joel Petersen) Broken Spindles (Tiger Style)
The Brooklyn Cowboys Dodgin' Bullets (Leaps)
Seana Carmody Struts and Shocko (Kimchee)
Guy Clark The Dark (Sugar Hill)
John Creamer and Stephane K. Bedrock Compiled and Mixed (two CDs) (Bedrock)
Cross Canadian Ragweed Cross Canadian Ragweed (Universal South)
Cynthia Dall Sound Restores Young Men (Drag City)
Coco de Mer Coco de Mer (Rasa/Tommy Boy)
Dead to Fall Everything I Touch Falls to Pieces (Victory)
The Detachment Kit They Raging. Quiet Army. (spinART)
DJ Louie Devito NYC Underground Party, Volume 5 (Musicrama)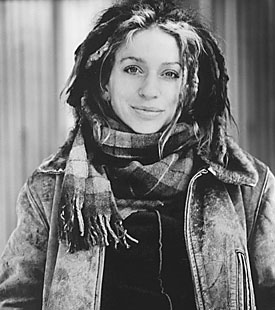 Photo courtesy of Righteous Babe Records
Ani DiFranco's new double disc is titled "So Much Shouting, So Much Laughter." The album will be in stores on Sept. 10.
Ani DiFranco So Much Shouting, So Much Laughter (two-CD live set) (Righteous Babe)
John Doe Dim Stars, Bright Sky (iMUSIC)
Dropkick Murphys Live on St. Patrick's Day from Boston, MA (Hellcat)
Drums & Tuba Mostly Ape (Righteous Babe)
Element 101 More Than Motion (Tooth & Nail)
The Fallen Front Toward Enemy (Metal Blade)
Faultline Your Love Means Everything (Elektra)
ill lit Wacmusic (Badman)
In Strict Confidence Mistrust the Angels (Metropolis)
Roger Miret & the Disasters Roger Miret & the Disasters (Hellcat)
The Mission UK Aura (same as U.K. version) (Metropolis)
Gary Moore Scars (Sanctuary)
The Pattern Real Feelness (Lookout!)
Ellis Paul The Speed of Trees (w/Lucy Kaplansky) (Philo/Rounder)
Randy Sharp The Connection (33rd Street)
The Smokey River Boys Sing O Brother (Universal Special Products)
Emily Sparks What Could Not Be Buried (Wishing Tree)
Speech (of Arrested Development) Spiritual People (iMUSIC)
Supreme Beings of Leisure Divine Operating System (Palm Pictures)
T-Model Ford Bad Man (Fat Possum)
Aaron Tippin Stars & Stripe s (Lyric Street)
Too $hort What's My Favorite Word (Jive)
Tre' (ex-Pharcyde) Liberation (iMUSIC)
Shows
---
Friday night, Sept 6, Neurotica will be accompanied by Blynd and Syberok downtown at The Rialto, 318 E. Congress St. The excitement unleashes at 8 p.m. Tickets are a mere $10 and can be purchased in advance at Zia Record Exchange or at the door. For more information call 798-3333.
For a smorgasbord of music, The Muse is hosting a variety of Bands such as Student Rick, Dumbstruck, Fourbanger, and Set in Miles this Saturday. The show will be held in Nation's Hall with the first band performing at 7:30. Go to ticketweb.com to assure your place in the fun, or buy the $8 tickets on your way in the door. Call 903-0918 for details.
The Rialto hosts another band Sept 14. On the 7th, Sevendust along with Medication and PH8 will go onstage at 8 p.m. Ticketmaster is selling the $20 tickets in advance.
Your neighborhood bar, Che's Lounge, will feature Greyhound Soul on Saturday night. If you are 21 and over, the music starts at 10. Che's Lounge, 346 N. 4th Ave, never has a cover charge. Get details from the experts at 623-2088.
Events
---
The International Film Society is featuring "Sunset Boulevard" this Friday at 7:30 in Modern Languages auditorium 350. This classic is a film noire about Hollywood in the 1950s and is directed by Billy Wilder.
Welcome your new neighbors in Nation's Hall at The Muse. Come to a Sudanese celebration of music, food, drinks, and information about Sudanese culture. This is a benefit for refugees that have recently fled an unstable homeland and are relocating in Tucson. Be hospitable, and arrive at 7 p.m. The gathering ends at 1 a.m. and though is a free event, donations are generously accepted. To find out more, call 903-0918.
Attention dancers, minglers, and even wall-flowers. College Night is for students over 21 every Thursday at Club Congress. For $5 you can hear all the dance music you want. Show up at 311 E. Congress St. at 9. For more information call 622-8848.
A poetry reading takes place every Wednesday at Hazy Dayz, 187 N. Park Ave. Bring any poems you have, or new songs you're working on and have your three minutes of fame. Arrive a little earlier to put your name on the list to read. Event begins promptly at 9 p.m. The cafe and hookah bar will be serving their specialties between each reading. Details are available at 884-0272.
On Saturday The Shane House Gallery has an opening reception featuring Kevin Lucero Less, an artist earning his BFA at the University of Arizona. The Master Plan, Part 1: L.A. Confidential Wire Tap, uses puzzle pieces, intricate wire designs, paint, and unique camouflage to reflect Lee's candid observance of life in L.A. Tom Short will perform live music when the event begins at 7 p.m. Get in touch with the Gallery at 629-0094.
N Scott Momaday, Kiowa writer and Regents' Professor at UA, will be the first speaker for the American Indian Studies Programs' Poetics and Politics Series. Come see this Pulitzer prize-winning novelist, playwright and painter next Monday at 7:30 p.m. in Modern Languages 350. A reception follows his presentation, which is free. Call 626-9110.
School induces a ridiculous amount of stress on your body. Start the year off in an Easternly fashion and drop in on a yoga class. Yoga Oasis, 2631 N. Campbell Ave, offers student rates. Sign up and learn a variety of practices like hatha, ashtanga, anusara, or Kundalini. To experience harmony, call 322-6142.