Contact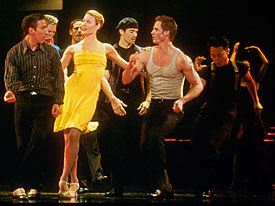 Photo courtesy of UAPresents

The hit musical "Contact" comes to Centennial Hall this weekend. The show combines elements of a dance performance and a musical, without using dialogue. It won the Tony Award for Best Musical in 2000.

By Lisa Schumaier
Arizona Daily Wildcat
Thursday January 23, 2003


Tony award-winning Īdance drama' plays at Centennial Hall this week

It's not a musical and it's not a dance. "Contact" is a "dancical." That is a popular joke among "Contact" audiences because the performance is original and unprecedented among Broadway shows. Directed and choreographed by Susan Stroman and written by John Weidman, there has not been a more talked-about piece since "Contact" won every major award in 2000, including the Tony Award for Best Musical.

"It won the Tony award. It is a fresh new approach on Broadway, and that is what Broadway needed at that time," said publicist UA- Presents publicist Tara Kirkpatrick.

Since "Contact" started touring, the troupe has been to cities all over the United States. They have visited Boston, San Francisco and Los Angeles.

"Where haven't we been?" performer Ipsita Paul said.
---
Mark it
· Contact
· When: Jan. 22 ÷ 26
· Where: Centennial Hall, 1020 E. University Blvd.
· For more info: 621-3341
---
Paul is originally from Ottawa, Canada. She lived in Los Angeles until she got the part for "Contact" and moved to New York. Appearing in "Contact" since 2001, she has had months of experience to feel out her character and find her place in the story.
"This is a cutting-edge musical. It was a controversy at first because there isn't any live music. It is more like a dance drama. Everything is told through dance," Paul said.
The dance is divided into three stories titled "Swinging," "Did You Move?" and "Contact." The first account takes place in the 1700s, the second in the 1950s and the final account takes place in present day. Within each story is the characters' primal desire for human connection.
Although the three stories exist separately from each other, the central theme is the pursuit for love.
"There are certain moments in the show that are very deep for me. I really enjoyed the Michael Wiely character. He is a 43-year-old ad executive who has established his career but can't seem to make human contact. It makes you want to go out and make contact with people while you can so you are not alone," Paul said.
One trait of the musical that surprises and captivates audiences is its lack of dialogue. Whereas former musicals incorporated some form of discourse among characters, the story is relayed without words.
"It really pushes the boundaries of what people called musicals. All three stories are told almost exclusively through music and dance," said Mark Rasdorf, director of communication and audience development at UApresents.
"Being able to see dance is powerful. Sometimes words aren't always the best form of expression," Kirkpatrick said.
Rasdorf and Kirkpatrick saw "Contact" when the show was first being performed. They believe that theater and dance fanatics in Tucson have waited long enough. It is time for Centennial to present such a cutting-edge musical.
"New York had to wake up to the fact that Tucson was a viable market for Broadway shows," Rasdorf said.
"That is the power of dance. You take a topic as big as love and show it through dance. It has made this show indefinable. There is absolutely no singing," Kirkpatrick said.
Perhaps even more successful than the show's language in dance was the choreographer herself. This is the third Tony Award for Susan Stroman. She choreographed the musicals "Crazy For You" and "Showboat."
"It is really her triumph. If you are a dance man, you will love this show," Kirkpatrick said.
"She is great. At first, I didn't know who she was, but when she first walked into the room for rehearsals everyone clapped. This is my second time working with her, and she is just awesome," Paul said.
When critics discuss "Contact," they are usually talking about Stroman and so far, there has been nothing but praise.
"The dancing was my favorite part. What Susan Stroman can do with groups of people on stage ö there is an athleticism and an ingenuity about her that no one else is quite like today. She is absolutely phenomenal," Rasdorf said.
Although a vast majority of the UApresents audience is comprised of older denizens of the Tucson community, there is something about this show that appeals to the younger generation of Tucson. It is the amount of energy that this performance generates. "Contact" is youthful and vivacious. Time magazine has promised, "You'll be sitting on the edge of your seat, electrified."
Also, the music selection comprises songs from our pop culture. Instead of the typical singing that characterizes musicals, "Contact" contains only recordings.
"College students will enjoy this because these are modern stories and have a variety of music in it, from classical to Robert Palmer," Kirkpatrick said. "But it is really hard to say a certain audience will love this more than (another). All ages have loved this show."
Paul especially encourages college students to see "Contact."
"College students will be able to identify with it, the lack of contact and wanting to make contact," he said.
The theme, having spun around again and again on Broadway, is timeless. However, the show's rendition is personal as well as universal. The three stories are specific but entail a similar search to our own. Human connection is made every day, but the lack thereof is just as prominent.
"The dance is relevant to everyone. It is about the search for love," Rasdorf said.
"It made me think. The dancing blew me away, but also the way in which they told a story without much dialogue and completely through movement is what touched me the most. The main characters in all three stories just grab you, and you leave the theater feeling attached to them," Kirkpatrick said.
"The audience has loved it so far," Paul said. "I think viewers leave the show happy. You believe in love, and you believe in your dreams."