Girls Girls Girls
PHOTO COURTESY OF ATLANTIC RECORDS

Four girls named Donna will play the Rialto Theatre, 318 E. Congress St., along with OK Go on Tuesday night. "Take it off," the band's first single from their album, Spend the Night, is currently on heavy rotation on MTV.

By Adam Pugh
Arizona Daily Wildcat
Thursday January 23, 2003


The Donnas are coming to Tucson and want to ╬Spend the Night' with you

No matter if it's estrogen or testosterone, the Donnas are going to kick your ass. After almost 10 years playing together and being on the road, the female quartet is still going strong and hitting new highs with its music. Last weekend, the group was in New York, performing in front of a live studio audience on "Saturday Night Live" to promote its new album, Spend the Night.

"It was really crazy," said Torry Castellano (aka Donna C.), the group's drummer. "I think TV is always really scary, especially live TV, and since it is not recorded, you can't do it over again."

Castellano said the experience was more than what she had hoped for.

"It's always a little crazy, but they (the cast) were all so nice, so that made it really cool," she said.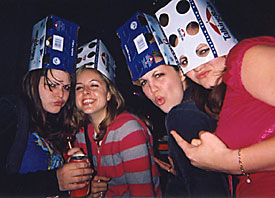 PHOTO COURTESY OF NO KNIFE
The Donnas pose after one of their concerts. The group, which plays ╬straight ahead rock ╬n' roll,' recently played on "Saturday Night Live."
The group is winding down its hectic publicity schedule to embark on a U.S. tour with the group OK Go and will be in Tucson next week to shake up the Rialto Theatre.
"I am just looking forward to this tour and hope it goes well," Castellano said sheepishly.
The other three -quarters of the band is comprised of Brett Anderson (Donna A.) on vocals, Maya Ford (Donna F.) on the bass and Allison Robertson (Donna R.) on the guitar. The girls started out in a band called the Electrocutes and were looking to start a side project back in the early '90s. While at a local McDonald's, a friend decided to rearrange the letters on a Happy Meal and the word "Donnas" formed in front of them.
"It seemed like the least lame (name)," Castellano admitted. "It was just a side project, so we didn't think we would ever play live or anything."
"At first we weren't all going to be named Donna, and then since we had two bands, we decided that, since it was like a joke. And then people seemed to like it and it stuck."
But those ladies are not your typical band; they are the female incarnation of classic rockers Ted Nugent and AC/DC. The Donnas have been called punk, pop, rock and a slew of other limiting sub-genres. But this does not change the fact that the girls are only out to rock people as hard as they can.
---
Mark it
· When: 8 p.m. Tuesday
· Where: Rialto Theatre, 318 E. Congress St.
· Cost: $15 at Zia Record Exchange locations
---
"It's funny I want people to think about us as a rock and roll band, in the same vein as AC/DC and Guns 'N' Roses. I hope they think the music is fun and that it is not all supposed to be taken seriously, lyrically," Castellano mused.
Mixed in with the band's solid rock writing is a true sense of comedy. But being in a group that is not afraid to make fun of anything has led many to believe that this is no joke.
"Something about our band makes people think that we are totally serious and that we take every guy to the backseat ¸ and that we don't know anything about making a joke or irony," she said concernedly. "Some people think that, ╬Oh, they don't get that they╬re making a joke.' And it's like, ╬No, we are making the joke; we know.'"
Although the band may defend itself when it comes to image, not all of the preconceived notions about the Donnas are unfounded.
"People definitely have an image of us partying or being with guys ¸ which definitely happens ¸ but it's funny when you meet someone at 10 in the morning, and they are like ╬Why aren't you drunk yet?' And I'm like, ╬Well, it's 10 in the morning,' ¸ not that I haven't been drunk at 10 in the morning, you know. It just doesn't happen everyday," Castellano joked. "We are not one thing all the time. We have a lot of fun on the road. We really like hanging out with each other."
After all is said and done, the group is always pushing forward with its music and keeping its focus. Considering all the time the Donnas have been together, and with all of the original members still intact, it is a wonder that the girls have been able to keep it together for so long while touring and recording on a regular basis.
When it comes down to it, the Donnas want only one thing: for people to enjoy the music they make. Take them for what they are and not for who you might want them to be.
"We are pretty much just straight ahead rock 'n' roll, and we try to make a record that people can put in their CD player and listen to it from start to finish," Castellano said. "Obviously, every band goes in trying not to make any kind of filler. But I think with this record, we really tried to stay away from that. It's really about having fun."
Sometimes having fun turns into a little more than what the girls are bargaining for. When on tour overseas, the group experienced parts of one culture that came as a bit of a surprise to them.
"A couple of guys have gotten on stage and taken off their clothes while we were playing," she laughed. "It shocked me the first time ¸ and it shocked me the second time. It's like, ╬God, I can't believe this could happen again.'"
Along with the new record and major-label deal, the girls have come to find that success is not always defined by how many TV appearances you make or the number of records you sell. It can be a bittersweet experience.
"We have had some success with this record. But at the same time, we can see our video on MTV, and we can play "Saturday Night Live." And then we could (play) a show, and the club is half-full, and the people there are just not even that excited," Castellano said, dejected.
To go along with that, the group gets stuck doing plenty of promotional gigs, and of course, dealing with the age-old interviewer asking silly questions.
"We get a lot of the same kinds of questions like, ╬Are you going to pose for Playboy? Do you wear thongs? Are you guys lesbian lovers?' You get it all."
There are the good things though; being happy with their music and enjoying playing with one another is a reward in itself. Now the road is calling the band once again, and the girls are excited to come and show Arizona how they like to get down on stage. Hopefully this time, no guys will be getting naked.
"We have always had a really good time in Arizona, so hopefully everyone will come out to our show and go crazy!"