Wu-Tang members skid into Old Pueblo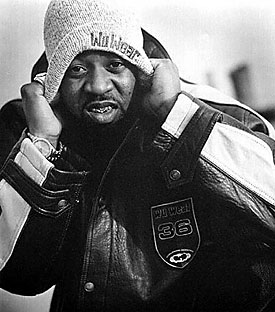 PHOTO COURTESY OF EPIC RECORDS

Underground hip-hop artist and Wu-Tang Clan associate Cappadonna plays Club Congress tomorrow. Also playing are Remedy, Inspektah Deck and Killah Priest.

By Kevin Smith
Arizona Daily Wildcat
Thursday February 6, 2003


The State of Alert tour featuring Wu-Tang Clan members and affiliates Cappadonna, Remedy, Killah Priest and Inspectah Deck almost didn't make it to Tucson thanks to a van mishap in Michigan.

The headlining rappers were on their way to a show in a van during a midnight snowstorm. The van contained Remedy, Priest, Cappadonna and Co.

"We was just cruising," Priest said, "And the driver hit the brakes and we was on fucking ice. So the car did not stop moving."

There are conflicting views on just what the van slammed into after its slide.

"We went right into a wall or some shit or another car," Priest said.

"We plowed into an intersection and shit," Remedy said.

No matter what the MCs may have hit that night, the main thing is nobody was hurt too seriously.

"A couple of us was a little injured," Priest said, "but you know, we got up out of the motherfucker."

Despite the bang-up, it didn't affect their performance that night.

"The promoter sent someone to pick us up off the side of the highway," Remedy said, "and took us right to this club and we just rocked it anyway. Shit was crazy."

The State of Alert tour is on track to revitalize the sagging form that hip-hop has assumed in the last few years.

"Real hip-hop is gone," Remedy said. "The shit that started all this shit don't exist. That's why guys like me, Priest and Capp are doing this shit now. State of Alert out this bitch."

"State of Alert is for all hip-hop heads," Priest said, "about the government, about the hip-hop nation and what it's going through right now, the struggle. So this whole tour is to capture a part of hip-hop that was missing."

Priest explained the essential contents of the tour and their purpose.

"Just some real hip-hop shit," Priest said, "so nod your head. We having fun with it, but that's what hip-hop is about, is fun. What we doing is just going back, throwing cats with consciousness and awareness, also the fun and the grimy, all of that's in there so you can learn something and also you can feel the realness of it.

It's about bringing back the essence of real hip-hop and bringing it so people can see the artistry in what we do. We do this shit, we live this shit, we do it all."

So far, the tour has been well-received.

"We've been playing to straight sold -out clubs," Remedy said, "so obviously real hip hop is still out there somewhere because the kids are coming for it. Even when it's minus 15 degrees out, they're coming."

"People showing real support," Priest said. "People looking like they need it, they want it. It's looking like Europe over here when we do a show. We get to take the block parties on the road."

The State of Alert tour's van smashes into Club Congress, 308 E. Congress St., Friday night at 9. Tickets are $10 in advance.

Local rapper gets chance to spread 'message to the masses'

Friday night at Club Congress, a local rapper will have his first chance to show his skills when he joins the State of Alert tour with Cappadonna, Remedy and Killah Priest.

Although Influence, a.k.a. Fred Jenkins, 27, of west Tucson, has been rhyming since he was 16 and performing since he was 23, he has never shown the local music scene what he can do on the microphone; Friday night will mark his official Tucson debut before he travels on with the tour, helping open its West Coast swing.

"I'm excited," Jenkins said, "I've never been on a tour. I've always done singular shows and things like that. Basically you guys (Tucson) are getting the first taste of this."

Jenkins got connected with the tour through his producer, UA graduate Solomon Freed, 27, of Villon Son Productions, who was putting together an educational outreach program with high schools dealing with Holocaust survivors and speakers.

"I know that Remedy is more of an entertainer," Freed said, "but he also has some serious educational and historical type of lyrics, and he speaks specifically about the Holocaust. So right there I knew if I could get him that that's this whole new element."

Remedy agreed to do an educational project at a high school in Texas and Freed and Jenkins met him there with their music. Remedy was blown away by Jenkins' lyrical ability.

"He heard the shit, and he was like, 'Damn!' So we connected, and it was like, 'Yo, lets hook up, lets do these shows' and it just clicked like that," Jenkins said.

He is especially excited about seeing crowds' reaction to his material.

"The most I'm looking forward to on this tour," Jenkins said, "is being able to see the reaction of a multitude of people who are going to be in different places, different thoughts and seeing their reactions.

If I'm the messenger, I think I got to get the message to them. I'm looking forward to see how I give the message to the masses."