African-American Greeks focus on unity, community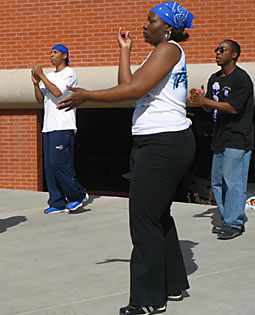 Melissa O'Neal/Arizona Daily Wildcat

Alina Boria, Lea Prescott, Kamille Thomas, Rashad Robinson and Aaron Russins were members of the step group that performed at the Student Union Memorial Center.

By Cara O'Connor
Arizona Daily Wildcat
Tuesday February 11, 2003


Larissa Smith never had any sisters ÷ until she came to the UA.

Smith, an anthropology sophomore, joined Sigma Gamma Rho sorority not only because her mother was a member but because of the strong bonds she witnessed among the members.

"Being an only child I didn't have a sister. But being in a sorority I have learned a lot about sisterhood and what it is like having someone you can truly depend on and truly count on," the Sigma Gamma Rho vice president said.

Sigma Gamma Rho is one of four sororities and two fraternities on campus that are traditionally African-American.

We are out there educating the youth and helping the community.
- Larissa Smith
Sigma Gamma Rho member

"The intent behind (African-American chapters) is to try to unify," Smith said.
"They have a strong tradition of doing service in the community," said Beth Conder, coordinator for Greek Life.
The more than 40 members of the African-American chapters on campus perform more than 1,000 hours
of community service every year, working primarily with the community's youth, Conder said.
Sigma Gamma Rho was founded by seven educators and has a strong tradition of educating youth. The sorority is working to start an essay contest called Mwanamujimu to teach African-American students about their roots, Smith said.
Alpha Phi Alpha fraternity's primary philanthropy is the "Go to High School, Go to College" program. The fraternity men mentor high school youth and also work to raise money for scholarships, said fraternity president Lorne Hopkins.
The commitment to public service lasts a lifetime, said Karelia Moore secretary of Delta Sigma Theta.
"I have sisters 80 years old in the community, still out there wearing their letters," Moore said. "We work toward leaving the world a better place than it was when we got here."
Historically, African-American chapters are governed by the National Pan-Hellenic Council. The recruitment process for NPHC is different than for other fraternities and sororities.
During recruitment, an individual expresses interest in a chapter and attends its philanthropies and social events. The chapter later extends an invitation to join if it feels that the recruit demonstrates the values of service, sister or brotherhood and scholarship essential to the group.
"Sigma Gamma Rho is about business. We are out there educating the youth and helping the community," Smith said.
The groups also work to support their members academically.
Increasing retention of African-American students is a top priority, Hopkins said. The group has study tables and a mentor program to help see students to graduation
"There aren't a lot of opportunities for black people to succeed," Smith said, adding that by requiring members to maintain a high GPA, chapters are giving their members a better chance at success in the professional world.
"There is a genuine love for one another," Moore said. "We are genuine about our concern for the African-American community and the Tucson community."
Something to say? Discuss this on WildChat