Home-schoolers find niche at UA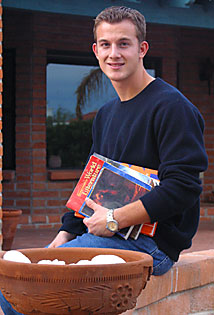 EMILY REID/Arizona Daily Wildcat

Journalism sophomore Nathaniel Puente sits outside his house yesterday afternoon with a textbook from his days as a home-schooled student.

By Tessa Hill
Arizona Daily Wildcat
Wednesday February 19, 2003


Until the age of 13, Nathan Puente had the same teachers for his elementary and high school level education ÷ his mom and dad.

Unlike most students at the UA, Puente, a journalism sophomore, was home-schooled for the entirety of his primary education. Although Puente is a rarity at this university, he was one of over 1.5 million students in the United States that receive their primary education through home schooling, according to the Home School Legal Defense Association.

Puente was instructed in the same general subjects as public school students, only his lessons took place at home and his parents were the instructors.

"It was really fun · like doing homework all day and then whatever else for the rest," said Puente, who socialized through his church and participated in extracurricular activities, such as soccer, during his home schooling.

Puente took his studies seriously, and he was accepted to Pima Community College when he was 13 years old after completing the Compass assessment test, the standardized exam that two-year colleges use to place students into classes.

When I come to a classroom, I see the teachers as my mom or dad.
- Nathan Puente
homeschooled until he reached college

"I wanted to go directly to U of A, but it was kind of intimidating," he said, adding that the advisors discouraged him because of his age and because he did not have a high school diploma.
However, according to the UA's undergraduate admissions policy, a high school diploma or GED is not required for home-schooled students; only a portfolio of the student's work and an acceptable SAT or ACT test score are needed.
The UA is currently home to an estimated 100 students who were home schooled prior to college, said Cathy Mayes, assistant director of Minority Student Recruitment.
"We get about 30 to 40 applicants a year and admit about 20 to 25 of those," Mayes said.
Mayes added that because admissions requirements for home-schooled students are focused solely on standardized testing scores, the scores necessary for admission are higher for home-schooled students than traditionally-schooled students.
"Most home-schooled students come to the university with some college credit already," she said, adding that it can be difficult for home-schooled students to make the jump to a large university, so generally they begin at the community college level.
"I didn't care, just as long as I got to U of A eventually," Puente said.
"I took the easy way out and went to PCC for the first few years," he said. He added that getting into the UA is much easier as a transfer student from PCC.
Puente said he was nervous about starting college at such a young age.
"People were like ÎHow old are you?,' No one believed me when I told them."
Eventually, Puente said everyone treated him well, but he was surprised at how easy his classes were. Enrolled in both Spanish and writing classes, he said he was frustrated by the long periods of time teachers took to explain class work and how they'd almost give all the answers away.
The enrollment of home-schooled students at PCC has increased by about 70 percent in the last five years, said Nancee Sorenson, Dean of Student Development of PCC West.
Sorenson said she believes that home-schooled students mainly opt to go to a community college first because of stricter admission policies at universities, perceived difficulties with the transition to a large campus lifestyle and large classes at universities that often intimidate them.
Sorenson also said that, in general, most home-schooled students tend to be more focused, determined, goal-oriented and better prepared for college than traditionally-schooled students.
"I went (to PCC) and was like, ÎThis is so much easier that what I've been doing,'" said Puente, who said he had basically self-taught himself at a fairly fast pace since he was 9 years old.
After earning his associate's degree from PCC at 18, Puente made the transition to the UA this year.
"The only real difference is that some of my classes are bigger," he said.
Puente thinks that many home-schooled students avoid large universities because of insecurities associated with the young age at which they are ready for college.
At both the UA and PCC, Puente has found students to be accepting of his background and maintains a steady social life.
"Most people think home-schooled students are nerds and socially inept," said Puente, who added that for him, however, that has not been the case.
"People actually tend to like me more," he said. "It always starts up a conversation."
While Puente never experienced the public school atmosphere, Adam Luckhow, an undecided PCC freshman, was home schooled until high school.
"It helped me out a lot going to public school for a year," Luckhow said. However, he said that home schooling prepared him for a tough study schedule in college.
Luckhow said that his parents' main reasoning for home schooling him prior to high school was to shelter him from negative influences while he was young. However, Luckhow said that while he attended public school, he did experience peer influences on his beliefs.
Puente's parents also wanted to keep him from the public school atmosphere because of pressures to do drugs and engage in other negative activities they felt existed at the public school level, Puente said.
But home schooling was always a personal preference for Puente, too. He said his parents now feel that he has matured enough to be exposed to the realities of the world.
Parental reasoning and technique of home schooling often affect how successful a student will be at the college level, Mayes said.
"The ones who have had a more traditional type of experience are the ones who are more successful."
She said that home-schooled students whose parents wanted to shelter them are often unsuccessful in college, which "is like high school to the tenth power with no parental supervision."
Puente said he has not missed out on any experiences because he was home schooled.
"I heard nightmares about the drama of people making fun of each other and boyfriends and girlfriends breaking up," he said about friends who attended public school.
Despite his upbringing, Puente said there is really only one thing he handles differently than most college students.
"When I come into a classroom, I see the teachers as my mom or dad," he said, and added that he therefore gives them his utmost respect and the attention he believes they deserve.
"It surprises me because students are disrespectful not only behind teachers' backs, but to their faces."
Puente said home schooling helped him build a strong relationship with his parents that most students don't have the opportunity to develop.
Still living at home, Puente no longer gets help from his parents on his homework, except in Spanish, in which his dad is fluent. He maintains a close relationship with them, but said as far as his homework goes, "It's way out of their league now."
Something to say? Discuss this on WildChat