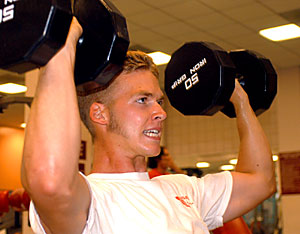 Claire C. Laurence/Arizona Summer Wildcat

NAU Forestry senior Chris Gebbs pumps a little iron last friday at the UA's Recreation Center. The Rec also provides numerous fitness courses, such as spinning and kickboxing.

By Kylee Dawson
Arizona Daily Wildcat
Wednesday, July 28, 2004
Print this


Instead of shelling out big bucks for a fitness center membership, why not take advantage of the facilities provided by the University of Arizona and get in shape on campus?

The Student Recreation Center provides a lot more services than most major fitness centers in town, and students who take more than four units are already members through the Recreation Center Bond Retirement Fee.

This fee pays for the construction cost of the Rec Center, which opened in August 1990.

There are plenty of ways to get in shape at the Rec Center.

There is a weight room, an indoor track, an Olympic-sized swimming pool, two basketball gymnasiums and much more.

"We have a really great staff," said Beth DeMilt, a journalism junior who works at the Rec Center.

"Everyone is really helpful, so don't be afraid to ask questions."

As the assistant manager of campus security at the Rec Center, DeMilt's responsibility is to monitor the number of people in the center.

She must make sure everyone follows all of the Rec Center regulations and provide assistance in if someone is injured.

"Everyone in the building knows CPR," said DeMilt.

"We have to be certified to work there, even people in the business office."

A current CatCard gives students access to the facilities. At the pro shop, it only takes a CatCard for students to check out equipment such as basketballs and rackets.

Bottled water, Gatorade and an independently run juice bar are also available at the Rec Center.

All exercise equipment (such as Stairmasters and exercise bikes) throughout the Rec Center is available to all students, but students must sign up to use treadmills and Precor elliptical trainers in the weight room.

If students don't like treadmills, they are free to use the indoor track on the upstairs level.

Additional exercise machines are also located on that level.

It is advised that you bring your own lock and towel, but at the pro shop, you can rent both for $1 a day.

The lockers can only be used one day at a time, so if belongings are left in lockers, the locks are broken, the students' belongings inside are confiscated and students must pay a $5 fee to get their belongings back.

Guests are welcome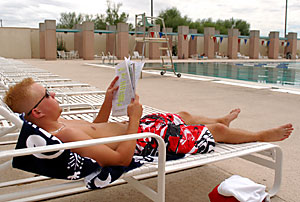 KEVIN B. KLAUS/Arizona Summer Wildcat
Undecided freshman Mark Lamb gets some sun while studying at the campus recreation center last week. Laying by the pool is a great way to get some studying accomplished while enjoying the Arizona sun.
The Rec Center is also open to non-students, but visitors who want to become members must be affiliated with UA in some way.
For visitors, a one-day pass costs $7, a five-day pass costs $20, a 10-day pass costs $30 and the semester pass is $75. Semester and annual memberships are also available.
Effective Aug. 23, semester membership fees for non-students, including UA staff, faculty, alumni and affiliates will increase from $75 to $95. Annual membership fees will increase from $200 to $250.
The household membership for visitors who live with a UA student will remain $75 per semester, according to Brenda Loman, the membership coordinator at the business office.
All membership passes can be purchased at the Rec Center business office located on the second floor.
During the school year, UA students can also bring guests (aged 18 or over) to the Rec Center.
During the fall and spring semesters, no one under 18 is allowed at the Rec Center during the week.
But during the summer, there are various activity programs for children (Camp A) and teens (Teen Camp).
On weekends, families can visit the Rec Center for $1 each, but are restricted to the racquetball courts, swimming pool and basketball gymnasium.
Activity and fitness classes
Throughout the week, the Rec Center offers personal training sessions as well as fitness and activity classes taught by professional instructors.
All classes are coordinated through the weight room, and information on class times and schedules is available through the pro shop.
Martial arts classes include Aikido (Japanese), Capoeira (Afro-Brazilian) and Jiu jitsu (Japanese).
Krav Maga, an Israeli self-defense system, is also taught.
Sports classes include handball, racquetball, tennis and wallyball, a game similar to volleyball but played in an enclosed court.
Dance classes include Latin, hip-hop and belly dancing.
Fitness classes include Tai Chi, yoga, Pilates, boot camp, step aerobics and spinning.
Health and safety classes include CPR, standard first aid and lifeguard training.
The Rec Center also supports more than 40 sports clubs, which are created, organized and operated by and for students.
Recreational clubs include soccer, synchronized swimming, American Tae Kwon Do and many more.
Clubs must be registered and recognized by the Office of Student Programs, then by the Department of Campus Recreation.
UA students workin' it out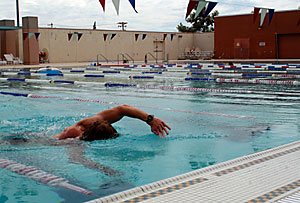 KEVIN B. KLAUS/Arizona Summer Wildcat
To beat the heat in the desert, many students can be found in the pool at the campus recreation center on 6th street and highland ave. The recreation center offers a pool, basketball courts, a weight room, and other various activities.
Finance senior Phillip Dunsford said he has been going to the Rec Center five days a week since his freshman year.
"I run the track, I swim and I go to the weight room," he said.
Dunsford said he typically works out from 6-8 a.m. or 4-6 p.m., but prefers to go earlier since it is crowded in the evening.
He also said the Rec Center is a great place to pick up chicks because "there's lots of 'em in spandex all over the place."
Susan Carnahan, a non-degree seeking graduate student, also goes to the Rec Center five times a week, but only uses the swimming pool.
"I come for the pool during the summer," she said.
Carnahan said she typically shows up at 11 a.m. and spends about 25 minutes swimming in the pool.
Psychology junior Pegah Afkary goes to the Rec Center about six times a week whenever her schedule allows it.
"I don't like to come in the evenings because it's too crowded," she said.
Afkary prefers to work out in the afternoon, when she can use the arm and leg equipment in the weight room as well as the exercise bikes.
She also takes activity classes, including pilates and the conditioning class.
Afkary does not think the Rec Center is a great place to try to meet people because, "it's like a meat market and I don't want to be a part of it," she said.
"I just want to do my workout and go."
She also said that students can't get a good workout unless they sweat, yet girls come in with makeup and try not to let it melt from sweating.
Timing
Carswell said that about 3,200 people use the Rec Center on an average day.
But during the first week of the fall and spring semesters between 4,000 and 4,500 students show up.
As the semester moves on, the number of students decreases as many find that they do not have the time to go to the Rec Center as often as they did before.
DeMilt and Carswell agree that the Rec Center tends to get crowded one month before spring break and directly after New Years, when students are trying to fulfill their resolutions.
"Around finals people try to get studying and exercising at the same time, so it can get busy," DeMilt said.
During the rest of the school year, DeMilt said the Rec Center tends to be crowded between 4 p.m. and midnight, closing time.
When crowded, there is a line to use the weight room, according to Carswell.
"It's about a 20-minute wait," he said.
According to DeMilt, only regulars show up around 6 a.m., opening time.
"There's not usually a wait for a machine when it's early," DeMilt said.
"You have to really be motivated to get up at 6 in the morning and go workout."
Through the fall, winter and spring semesters, the Rec Center is open Monday through Friday, 6 a.m. – 11 p.m. Saturday 8 a.m. – 8 p.m., and Sunday 10a.m. – 11 p.m.
The pool always closes one hour before closing time.
The Rec Center is closed during football games.
Other facilities controlled by the Rec Center include the Bear Down Gym (three basketball courts, a weight room and lockers for men and women), the Robson Tennis Center (17 tennis courts) and the Rincon Vista Sports Complex (all-purpose fields used by sports clubs and intramural sports).
Reservations to use certain Rec Center facilities can be made at the Student Recreation Center Pro Shop (621-4673) during the day, or at the Robson Tennis Center (621-9902).
The Rec Center is located at 1400 E. 6th St. For more information about the Rec Center, visit campusrec.arizona.edu or call 520-621-4709.


Write a Letter to the Editor