CHRIS CODUTO/Arizona Daily Wildcat

UA junior tailback Mike Bell is brought down during the Wildcats' home loss to USC last year. Bell leads Arizona into action tomorrow at Arizona Stadium against in-state rival NAU.

By Tom Knauer
Arizona Daily Wildcat
Friday, September 3, 2004
Print this


Don't let a promising campaign last season (168 carries for 920 yards, 5.5 yards per carry) detract from your focus. Hit the sled after tackling drills, run up and down the bleachers after practice. Do whatever you have to do, Mike, but please, don't let us down.

Do what made us believe in you last year, what makes you the top returning rusher in the Pacific 10 Conference this season and a sleeper candidate for the Doak Walker award, given to the nation's best running back. Hit the frontline and befuddle all the run blockers. Make their ankles twist as our stomachs did throughout 2003, when our poor record was understated by an inconsistent offense and early questions in the backfield.

Do remember Clarence Farmer, your former superior on the depth chart. After a strong season in 2002, he entered last year ranked fourth among NFL running back prospects by The Sporting News. His hype caught up with him, Mike. He developed attitude issues and an asinine disposition toward the coaching staff. He performed well against Louisiana State and UCLA, but was relegated to the bench after the latter game - partly so you could step in. He was dropped from the team in late October, as I'm sure you remember, and has hardly been heard from since, least of all in the professional ranks.

(Don't leave for the pros this spring, Mike. Oh please, oh please don't do that.)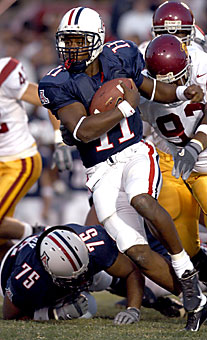 Tom Knauer
Arizona Daily Wildcat
Do get off to a quick start. You saw each of our first three opponents as a freshman in '02, and this season, with inexperience abounding at wideout and in the secondary, we need a ball-control offense early on. The defense will thank you later on the sidelines.
Don't get disappointed if the season goes south in a hurry. This is only Coach Stoops' first year, after all, and no one will be calling for Nic Costa to replace you at any point this season. Cherish your backups. Allow them the proper room to grow. You are both a junior and a team captain, and your actions should reflect both titles.
Do allow yourself to grow. Senior offensive tackle Brandon Phillips already thinks you're a "world-class back," and Wildcat sports writer James Kelley even compared you to Barry Sanders. Those are fine comparisons. Use them to become a more avid student of the game. (Just don't read too far into Sanders' trademark backfield flops.)
Do obliterate Northern Arizona tomorrow. The last time you ran against them, in '02's season opener, you were a helpful contributor in Arizona's 37-3 victory.
This time around, you're the focal point of the team, the lone tree all those Lumberjacks will seek to split. Turn their axes dull, Mike. Ram your 6-foot-1, 210-pound frame right between the tackles, and dance your way through the red zone. Make an example of one team, Mike, and the rest are sure to notice.
Do try to avenge our loss to the Bruins on Oct. 9 in Los Angeles. We were oh-so-close to an upset last fall, and you were a key reason, averaging nearly 12 yards per carry. Do something close to that, and riots of a different sort will erupt in L.A.

CHRIS CODUTO/Arizona Daily Wildcat
UA tailback Mike Bell scampers for a short gain against USC last November at Arizona Stadium. Bell will be counted on to shoulder much of the ball-handling load on the field of play along with seizing a leadership role off the field.
Don't run yourself too ragged at Washington on Nov. 6. Help get the win, but save your energy for the postgame celebration. If our goalposts didn't come down here against the Huskies, maybe they will in the moist northwest turf in Seattle.
Do take a cue from Virginia Tech's Bryan Randall when you face Southern California on Nov. 13. Turn the Trojans' speed on defense into an advantage, as Randall did for the Hokies in the first half last week, and open it up for Heavner and Co. in the passing game. Score a touchdown if you can. We didn't see many of those last November.
Finally, run roughshod over Arizona State on Nov. 26. The rivalry continues in Tucson this year, and whether or not the Wildcats are in the hunt for a bowl berth, expect a crowd teeming with your peers and classmates. It'll also be Senior Night. Show the Sun Devils that we mean business, and send your senior colleagues off with a final home "W."
Mike Bell, you can do it. Shoulder the load for Arizona football this season. Hoist all the hopes and expectations around this campus and put them on your considerable shoulders. Shake and shimmy your way into that proverbial end zone, the promised land, and lift this program from its current ineptitude.
Just try not to notice the rest of us climbing on, too.


Write a Letter to the Editor