CHRIS CODUTO/Arizona Daily Wildcat

Arizona receiver Syndric Steptoe dives for the end zone during Saturday's season opener at Arizona Stadium. Arizona defeated NAU 21-3.

By Brett Fera
Arizona Daily Wildcat
Sunday, September 5, 2004


A nine minute, 80-yard touchdown drive to open the game showed the good.

Nearly three full quarters without another score showed the bad.

But a 21-3 debut-victory for Arizona head coach Mike Stoops in front of nearly 50,000 fans showed the potential of what could be.

"I'm excited with the way our team played tonight, although there are some things I wish we had done better. This game was a great test of our toughness and conditioning," Stoops said of his first time roaming the sidelines of Arizona Stadium. "Overall, it was fun to watch and I love the way the team played. We showed the makings of a good team," Stoops said.

Despite failing to add to the team's first touchdown - a 2-yard run by junior Mike Bell with six minutes to go in the first quarter - for nearly 41 minutes of game time, the Wildcat defense stood strong, holding the Division I-AA Lumberjacks to just three points on the night.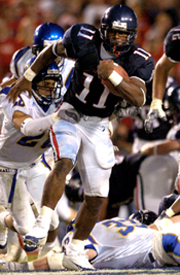 CHRIS CODUTO/Arizona Daily Wildcat
Running back Mike Bell powers his way over a NAU defender during Saturday's season opener at Arizona Stadium. Bell finished with 118 yards and two touchdowns during Arizona's 21-3 win over NAU.
UA freshman cornerback Antoine Cason, playing in his first collegiate game, led all players with 13 tackles while also forcing two fumbles and hauling in a late-game interception to boot.
Arizona junior tailback Mike Bell carried much of the offensive load for the Wildcats, carrying the ball 31 times for 118 yards and two of Arizona's three scores.
UA sophomore quarterback Kris Heavner earned praise from his coaches and teammates after the game after efficiently completing 18 of 23 passes for 171 yards and a touchdown. Heavner managed to connect with eight different receivers during the game, paving the way for Bell to wear down the Lumberjacks.
NAU sophomore quarterback Jason Murrietta, the 2003 Big Sky Conference Player of the Year, completed 20 of 37 passes for 176 yards, but failed to reach the endzone and was picked off three times. Tailback Roger Robinson added 101 yards on the ground on 20 carries.
Arizona's next test will come Saturday night at the hands No. 20 Utah, who handily defeated Texas A&M, 45-21 to open it's season.


Write a Letter to the Editor