Thursday, February 17, 2005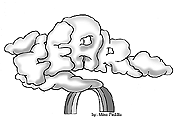 What are people afraid of, when it comes to allowing same-sex marriages?
Pose this question to members of the lesbian, gay, bisexual and transgender community and rarely will you get an answer. That's because there is no good answer. Fears that gay marriage equals moral decadence are unrealistic, close-minded and prejudiced. These fears are based in religious propaganda and fanaticism and get in the way of reasoned analysis.
Stonewall Democrats, the National Organization for Women and a multitude of others representing open-mindedness in sexual attitudes were at a rally downtown on Sunday to consider the effects of such fears. The atmosphere at the rally was self-congratulatory, enthusiastic and equally apprehensive. [Read article]

·
On the Edge
·
Mailbag
·
Online Mailbag
Latest Issue: February 17, 2005
If you slapped some fake tits on him, then dolled him up in a wig and makeup, Gael García Bernal would be just as hot as a woman. Fortunately, he's still all man after filming "Bad Education," in which he plays a gender-bending director trying to turn a friend's traumatic childhood into a film.
At 27, Bernal is a rarity in cinema, rising to fame and heartthrob status by acting exclusively in Spanish-language films. He banged his brother's wife in "Amores Perros," had a three-way with his real-life best friend in "Y Tú Mamá También" and played a seductive priest in "El Crimen del Padre Amaro." [Read article]

·
Tucson and Campus Calendar
·
'Krazy Kat' was all that
Campus
·
Poet Laureate to visit UA
·
Student gallery draws on love for horses
Film
·
A good 'Bad Education'
Music
·
The Blood Brothers revive punk
·
Blonde Redhead takes it easy on tour
·
Modest Mouse amazes Mesa
·
KC brings sunshine to Tucson
·
The Milli Vanilli Factor
Literature
·
'Sight Hound' a great first novel
Latest Issue: February 15, 2005

Metal, ink and flesh: the painful pleasure of tattoos and piercings
No living human is a stranger to pain. But why do humans choose to endure pain in exchange for something as aesthetic as a tattoo or piercing?
When asked why she got so many piercings, aerospace engineering junior Brittany Neverman gave the most honest answer.
"I don't know," she said. "I think I'm addicted to piercing. It's kind of a rush." [Read article]

·
Body art tips: safety first, second, always

require('/home/webby/html/papers/98/polls/current.php')?>

showAds('bigbutton')?>




showAds('mediumbutton')?>


Thursday
---
6 pm
UATV: Wildcast

6:30 pm
UATV: Daily Dose

7 pm
Dodgeball: A True Underdog Story

9 pm
Napolean Dynamite

11:30 pm
Elf

Show Schedule
Interview Archives

showAds('wildlinks')?>