Monday, February 21, 2005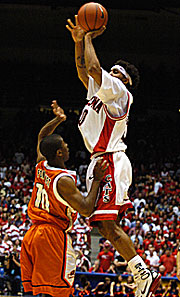 Wildcats all smiles during romp over Oregon State
ARIZONA 91, OSU 70
The only people scowling in McKale Center yesterday afternoon were the Oregon State Beavers.
The No. 10 Arizona men's basketball team (23-4, 13-2 Pacific 10 Conference), particularly guard Salim Stoudamire, was all smiles during their 91-70 win over the Beavers (14-11, 6-8) in front of 14,592 fans on senior day.
"Disgustingly good," was Stoudamire, said fellow senior Channing Frye, who scored 15 points and added 11 rebounds. [Read article]

·
Softball: Cats sweep weekend doubleheader
·
Women's Hoops: UA returns to third place after loss to Oregon
·
No. 10 baseball takes first loss of season
·
Gymcats drop first home meet
·
Icecats finish season above .500, miss playoffs
·
Ruggers sweep San Diego, Laxcats split with Utah
·
Tennis weekend rained out
·
Track continues success
·
Women's golf opens tourney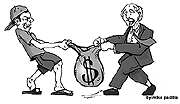 Now that tuition-hike season is in full swing (it's the second-most wonderful time of the year), people are coming out of the woodwork to throw in their two cents. This includes the quixotic group of current and former students that are seeking to solve the state's higher-education funding problems through litigation.
This week the plaintiffs, led by former UA student and former state Rep. John Kromko, made their case once again. They argue that because the Arizona Constitution requires all state educational institutions to be "as nearly free as possible," last year's tuition increase was illegal. A state trial judge threw the case out a year ago, but Kromko and associates have moved up to the court of appeals. [Read article]

·
Use service requirement to silence tuition crybabies
·
Mailbag
·
Online Mailbag
Latest Issue: February 17, 2005
If you slapped some fake tits on him, then dolled him up in a wig and makeup, Gael García Bernal would be just as hot as a woman. Fortunately, he's still all man after filming "Bad Education," in which he plays a gender-bending director trying to turn a friend's traumatic childhood into a film.
At 27, Bernal is a rarity in cinema, rising to fame and heartthrob status by acting exclusively in Spanish-language films. He banged his brother's wife in "Amores Perros," had a three-way with his real-life best friend in "Y Tú Mamá También" and played a seductive priest in "El Crimen del Padre Amaro." [Read article]

·
Tucson and Campus Calendar
·
'Krazy Kat' was all that
Campus
·
Poet Laureate to visit UA
·
Student gallery draws on love for horses
Film
·
A good 'Bad Education'
Music
·
The Blood Brothers revive punk
·
Blonde Redhead takes it easy on tour
·
Modest Mouse amazes Mesa
·
KC brings sunshine to Tucson
·
The Milli Vanilli Factor
Literature
·
'Sight Hound' a great first novel
Latest Issue: February 15, 2005

Metal, ink and flesh: the painful pleasure of tattoos and piercings
No living human is a stranger to pain. But why do humans choose to endure pain in exchange for something as aesthetic as a tattoo or piercing?
When asked why she got so many piercings, aerospace engineering junior Brittany Neverman gave the most honest answer.
"I don't know," she said. "I think I'm addicted to piercing. It's kind of a rush." [Read article]

·
Body art tips: safety first, second, always

require('/home/webby/html/papers/98/polls/current.php')?>

showAds('bigbutton')?>




showAds('mediumbutton')?>


showAds('wildlinks')?>