Wednesday, February 23, 2005

Potholes plague campus roads
Recent rainfall in Tucson has left streets on campus torn up and full of holes, but workers are promising to patch reported potholes within 24 hours.
A lot of patched road areas are deteriorating because of the heavy rains, but that's nothing out of the ordinary, said Chris Kopach, environmental services associate director in Facilities Management.
Facilities Management has a crew who will repair any reported areas within 24 hours, Kopach said. [Read article]



Dead day still alive this spring
Final exam schedule remains unchanged
Dead day is still alive and well, at least for this semester.
Administration officials discussed changes last semester to the final exam schedule including a possible elimination of dead day, but decided not to rearrange it for spring semester.
Several graduating students in past years have argued the last day of final exams, which always falls on a Friday, conflicts with other university activities such as graduation ceremonies, said Juan Garcia, vice provost of academic affairs. [Read article]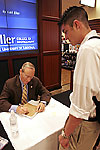 Eller namesake promotes book
Business majors were in for a treat when the college's namesake spoke and promoted his new book.
More than 350 students packed into Berger Auditorium last night to hear local businessman Karl Eller talk about his new book, "Integrity is All You've Got."
Eller began his 50-minute discourse with the reason he established the Eller Center for the Study of the Private Market Economy at the UA in 1983. [Read article]




Whatever it takes to be thin
Editor's note: The name has been changed to protect the person's identity
Obsessively counting calories, eating as little as possible, spending hours a day exercising, popping pills and throwing up all while going to school and trying to live an average life; this was Tara's reality.
"I remember walking into my friend's house wearing shorts and she started crying," Tara reminisced. "She was crying because I was so skinny, and as sick as it sounds, I was happy; not because she was crying, but because people thought I was that skinny." [Read article]




Professor captures Laramie 'Inside Out'
Armed with her past and a video camera, she went to Laramie, Wyo., to find some answers. It was the spring of 1999.
What she found was a town struggling to move forward after the brutal 1998 murder of Matthew Shepard, a gay 21-year-old University of Wyoming student.
Beverly Seckinger has dedicated her career to telling stories about other people through film.
Seckinger, an associate professor of media arts and associate head of the department, teaches courses in documentary film production, the history of documentary film and a course in idea development. [Read article]




Career fair provides advice, networking
Students interested in health professions got a chance to rub elbows with recruiters and agencies about careers in the field.
Various Arizona schools provided 223 students with information about health professions and volunteer and internship opportunities at yesterday's Health Professionals Fair in the North Ballroom in the Student Union Memorial Center.
Facts were provided regarding admissions, programs, classes and opportunities, said Randi Kent, advising specialist in the Pre-Health Professions Advising Center. [Read article]




Conference addresses Ariz. urban sprawl, agriculture
MESA .- Questions about urban sprawl in the Salt River Valley, space for agriculture and water use in Arizona were addressed at yesterday's 20th annual Arizona agribusiness forum on urbanization and agriculture.
Dean Lueck, a professor of agriculture and resource economics, said the conference attempted to give an overview of the urban and agricultural situation because they impact each other and need to be talked about. [Read article]




Women in UA engineering, sciences still outnumbered
A presentation by the president of Harvard University had UA women confused and annoyed after he claimed biological differences in sex might be responsible for why fewer women succeed in the upper ranks of science and engineering.
Harvard president Lawrence Summers spoke at a conference Jan. 14 on women and minorities in science, questioning why so few women are on math and engineering faculties at top research universities. [Read article]




Fast facts
Queen Victoria's first act after her coronation was to remove her bed from her mother's room.
Pepin the Short, king of the Franks from 751 to 768 A.D., was short indeed - all of 4-foot-6 - yet he carried a 6-foot sword and was a mighty warrior. His wife, by contrast, was known as Bertha au grand pied, or "Big Foot Bertha." They were also the parents of Charlemagne.
In colonial America, the manufacture of clothing at home was a time-consuming, never-ending task. Because it took nearly a year and a half to create linen from flax, a man's shirt often wore out by the time a new one was completed. [Read article]




showAds('bigbutton')?>






showAds('mediumbutton')?>

showAds('wildlinks')?>