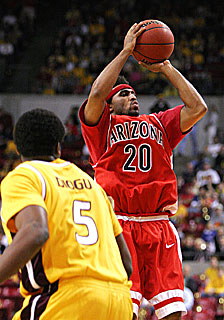 EVAN CARAVELLI/Arizona Daily Wildcat

Senior guard Salim Stoudamire pulls up for a jump shot before ASU's Ike Diogu can react during Arizona's victory over the Sun Devils Saturday evening. Stoudamire was named Pac-10 Player of the Week for the third time this year.

By Amanda Branam
Arizona Daily Wildcat
Tuesday, March 8, 2005
Print this


Wheeler named sole Pac-10 finalist for national award

Salim Stoudamire's only field goal of the second half won the game against ASU, and it likely also won him his third Pacific 10 Conference Player of the Week Award of the season.

It is the second time in three weeks Stoudamire received the honor. His jump shot with six-tenths of a second left on the clock won the game 70-68 over the Sun Devils.

"It just shows you he's a great player, he's a great shooter, he's a great scorer, and he's a great leader," senior center Channing Frye said. "I wouldn't want to play with anyone else. I think he deserved it. He played a great game and came up big for us."

Stoudamire scored 18 of Arizona's 37 points in the first half, shooting 3-of-4 from 3-point range and 5-of-5 from the line. It is Stoudamire's fourth time to receive the weekly award in his career.

Stoudamire's hot play over the last two months of the season earned the 6-foot-1 guard his first All Pac-10 nod.

Stoudamire, who was named honorable mention each of the last two seasons, made a strong push for Pac-10 Player of the Year but was still edged out by ASU's Ike Diogu for the award. Stoudamire said he felt like he deserved the award just as much as Diogu did, but he isn't upset about it.

"It is what it is. Life goes on. I have bigger things in my mind and that's to win a national championship," he said.

Frye joined Stoudamire and Diogu on the All Pac -10 team, and junior forward Hassan Adams was named to the honorable mention team.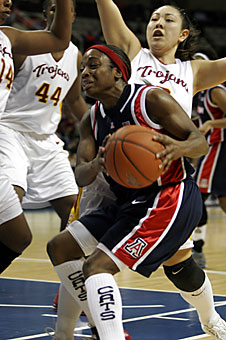 CLAIRE C. LAURENCE/Arizona Daily Wildcat
Senior guard Dee-Dee Wheeler finished with a team-high 15 points in Arizona's 76-68 loss to USC in the first round of the Pac-10 tournament in San Jose, Calif., Saturday.
Wheeler semifinalist for Collegiate Basketball Award
Arizona senior point guard Dee-Dee Wheeler was named a semifinalist for the women's basketball Collegiate Basketball Award of Excellence.
The award recognizes college seniors for academic and athletic achievement in addition to community involvement. It will be presented on April 12.
Wheeler is the only Pac-10 player to make the list of 10 athletes and leads the conference in scoring with 17.9 points per game. The senior captain was also named to the all Pac-10 team last week for the third time in her career.
Three finalists for the award will be announced during the NCAA Tournament in Albuquerque, N.M.
- Staff and Wire Reports


Write a Letter to the Editor