Tuesday, March 29, 2005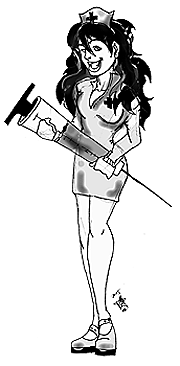 For UA students, the month of March usually means three big things: spring break, March Madness and the ominous approach of final exams. Through all of that, it's easy for us to forget that around the rest of the country and the world, many people live amid suffering and crisis.
As an important reminder of that suffering and the need for humanitarian aid, March is Red Cross Month.
Along with giving the American Red Cross an opportunity to promote its services, celebrate its successes and educate people about its mission, Red Cross Month reminds us of the opportunity to pitch in and do our part to alleviate that suffering and to help combat those crises, both domestically and abroad. [Read article]

·
Mailbag
·
Loss is not life and death
Latest Issue: March 24, 2005
Photography may be the most accurate visual representation of reality, while sculpture can offer the most abstract and symbolic representation of reality. But the Museum of Contemporary Art's new exhibit uniquely combines the two with the exhibits "Dave Lewis: State Furniture" and "Dan Budnik: David Smith at Work."
As a part of their Origins series that examines the roots of post-modern art, this exhibition presents Budnik's poignantly real photography of the great 20th century sculptor David Smith as a compliment to Lewis' socially critical sculpture exhibit that examines power. [Read article]

·
Tucson and Campus Calendar
Campus
·
Spring break in Couchville
·
Able intern coordinates senior exhibit
·
CCP showcases '70s
·
Art of Japanese manholes leaves lasting impressions
Film
·
'Ring 2' runs in circles
·
'Chorus' sings, feels good
Music
·
CD Review: 50 Cent
Literature
·
Prose's latest satire shows teeth, wit
Latest Issue: March 23, 2005

From drunken fraternity guys and conspiracy theorists to bug-eyed weirdoes who just creep you out, the strangest customers who enter the U-Mart, always leave a lasting impression on the shop's employees, who just want a little courtesy and respect for their hard work.
Instead, workers occasionally get a mess to clean up or an eye full of spittle from some screaming customer upset that the cashier doesn't want to play 20 questions while other angry customers wait in line.
Despite the various fields and numerous courses available to the students at the UA, it seems that some things are not necessarily taught - or learned - in the classroom. [Read article]

·
Treacherous tales from the ultimate "U-Martyr"

require('/home/webby/html/papers/98/polls/current.php')?>

showAds('bigbutton')?>






showAds('mediumbutton')?>


Tuesday
---
5:30 pm
UATV: Wildcast
6:30 pm
UATV: Daily Dose
7 pm
Office Space
9 pm
Revenge of the Nerds
11:30 pm
There's Something About Mary

Show Schedule
Interview Archives

showAds('wildlinks')?>