By J. Ryan Casey
Arizona Daily Wildcat
Wednesday, March 30, 2005
Print this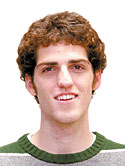 J. Ryan Casey
sports writer
"We beat Illinois tonight, they just won the game."
It was an oft-muttered sentence around campus Saturday night as the Arizona men's basketball team exited the 2005 NCAA Tournament's elite round of eight, leaving a sour taste in the mouths of many of its fans.
Many viewed this as a last chance for glory for this program, at least for a few years, with the impending departure of seniors Salim Stoudamire and Channing Frye, and potentially junior guard Hassan Adams.
Should fans panic?
Abso-LUTE-ly not.
Insert optimism here - J.P. Prince.
A 6-foot-7, 203-pound point guard out of Memphis, Tenn., White Station High School, he is rated as 2005's fourth-best available point guard by the recruiting Web site www.scout.com.
Prince, along with the other incoming freshmen Marcus Williams and Fendi Onobun, could provide Lute Olson with that much needed depth.
Hailed as a great rebounder, passer and defender who gets up for big games, Prince can play small forward in addition to his usual point guard position. He was recently selected as one of 10 high school seniors to the 2005 Nike Hoop Summit, and shines in the classroom with a 3.4 grade point average. Prince, the cousin of the Detroit Pistons' Tayshaun Prince, has led White Station three state championship teams during his time there.
He will join the 2005-06 Wildcats as the potential sixth man, and could possibly even crack Olson's starting lineup at some point next season. Regardless of when he comes into the game, with the natural ability that he possesses, it will be very hard to keep him off the floor next season.
Versatility seems to be a theme for this recruiting class, rated 11th best in the nation by www.scout.com.
Williams, the No. 6-rated shooting guard who can double as a small forward, comes out of Seattle's Roosevelt High School averaging nearly 30 points his past two seasons. He brings more athleticism to Olson's program, something the Hall of Fame coach loves to work with.
This year, Williams led Roosevelt to their first state tournament since 1987 on the wings of a 20-5 record. Although his team fell short, Williams was named first team all-tournament, averaging 22.7 points and nine rebounds.
Although not as highly anticipated a recruit as Prince, fans may be familiar with two players who barely cracked the top 100 of their recruiting class four years ago: Stoudamire and Frye.
Olson has built his program by recruiting players who will fit into his system, players he can mold into greatness.
A big time scorer, more so from the outside, Williams could become a star for the Wildcats over the course of his career. His outside shooting will obviously not be comparable to a certain departing player who also hails from the Northwest, but it will definitely be a valuable asset off the bench for Olson's squad.
Next is a player whose name Wildcat fans will love to say for years to come - Fendi Onobun.
The 6-foot-7, 225-pound forward is Arizona's second recruit from the Houston area in as many years, with freshman Jawann McClellan being the first.
Projected as a small forward, Onobun will most likely get some looks at power forward, and possibly shooting guard next season as well.
Another very athletic recruit, Onobun will likely see lots of playing time next season right away if for no other reason than the versatility that he possesses. This kid will remind some fans of Hassan Adams as well, or even an Andre Iguodala for the sheer athletic ability that he possesses.
His ability to play multiple positions, as well as his tenacious talent to grab a rebound, will be something that Olson will take advantage of next season, especially should Adams decide to leave.
On top of his basketball talent, Onobun is a media darling who has the potential to become an instant fan favorite. Oh yeah, his GPA? 4.0.
Add to this mix the 2006 commitment of Nic Wise, a 5-foot-10, 175 pound point guard from Houston who recently led Kingwood High to a state championship, and the Wildcats definitely have a bright future.
The Pacific 10 Conference will be nowhere near as strong next season as it was this year, with Washington losing four starters. Stanford will be a challenger, but Arizona will likely win the Pac-10 once again, translating into a two or three seed in next year's tournament.
Fear not Arizona fans, this team will not fall far from glory. Take your finger off the panic button.


Write a Letter to the Editor