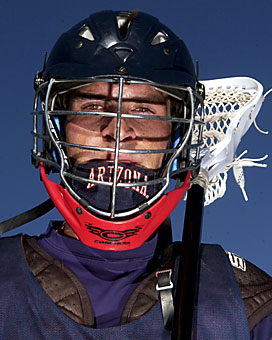 CHRIS CODUTO/Arizona Daily Wildcat

Senior attackman and captain David Sherman has recorded 20 goals for the Laxcats thus far this season. In the time he has played on the team, Sherman has come to consider his teammates some of his best friends.

By David Vickter
Arizona Daily Wildcat
Wednesday, April 20, 2005
Print this


Laxcat senior attackman and captain, Dave Sherman, was not always a lacrosse fanatic. Sherman was an everyday athlete who experienced a unique transformation, as he was netted by the Arizona lacrosse program.

However, after playing six years of lacrosse, the end of this season will close a valued chapter in Sherman's athletic career.

"I was always an athlete in high school, playing volleyball and football. I had never watched lacrosse; I didn't even know what it looked like," said Sherman, a Tucson native.

Sherman stumbled upon his love for lacrosse one day in his sophomore year of high school when some friends informed him that the new lacrosse program at their school, St. Gregory's, was cut. Several of the players wanted to continue playing, but several also quit.

As a natural athlete, Sherman's abilities were called upon.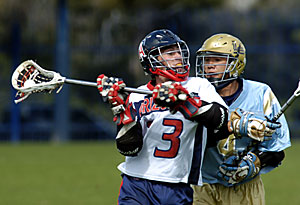 CHRIS CODUTO/Arizona Daily Wildcat
Arizona senior attackman David Sherman shoots over a UCLA player during Arizona's 8-3 win over the Bruins March 6.
"I had to figure it out myself," he said.
Thus the thrill began.
Although the team had not been in a league, Sherman and friends managed to use the old school facilities for practice. Sherman began playing as a long stick midfielder and still reminisces about the poor quality of his old equipment.
Soon enough the boys found a former high school teacher, Sarah Williams, who was willing to organize them.
The team won one of nine games his junior year.
Williams left the next season, and the boys were without a coach. Soon enough, Dan May took hold of the program and led the team to an undefeated season in Sherman's senior year.
As he played more and more, his love grew stronger.
Thinking about his future in lacrosse, Sherman began attending Laxcat games, having frequent conversation with head coach Mickey Miles, who at the time helped to acquaint him with the lacrosse program.
After losing the state championship game in his senior year to Phoenix Country Day School, where current teammate and Laxcat goaltender Greg Abdouch attended, Sherman saw the first of his next four seasons on the desert horizon.
Prior to the 2002 season, he had been participating in two-a-day practices in the fall, preparing for the ride of his life.
Sherman's roots were planted deep in the Arizona lacrosse program.
"I've made all my best friends here. When you spend four hours a day together for four years, those people become a big part of your life," said Sherman, who has recorded 20 goals on the season.
This year, the team has adopted a "family" motto to build cohesive bonds among all teammates. Practice shirts worn daily have the word printed on the back.
Along with him came his supportive family, who have been dedicated to nurturing their son's passion for lacrosse.
Parents Andy and Vicky Sherman have attended many Laxcat games, including the trip made a couple of weeks ago to Santa Barbara, Calif.
"Mr. Sherman is definitely the most intense fan," said teammate Adam Paris.
Sherman has also found close ties with Arizona head coach Ken Broschart, who has played a significant role in his career.
Sherman attributes much of the maturity process he has experienced to his coach.
"Coach Broschart is one of the most passionate people I've met. The man's heart is always in the right place," he said.
The team travels to Santa Barbara this weekend for the second time of the season to face University of California Santa Barbara in the Western Collegiate Lacrosse League quarterfinals.
As the 2005 Laxcat campaign comes to a close, Sherman will be excelling in his academic course work as well. Sherman will be graduating with a degree in psychology and has aspirations of working in social services. He plans to stay involved with the lacrosse program at Arizona and is considering coaching a team in the future.


Write a Letter to the Editor