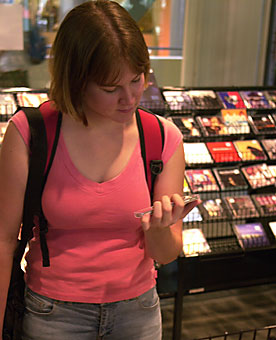 Matthew Robles/Arizona Daily Wildcat

Agriculture freshman Nicole Soloway peruses the CD selection at the newly opened music store, Replay. Located in the Student Union Memorial Center, the store offers a large selection of music, video games and DVDs.

By Jesse Lewis
Arizona Daily Wildcat
Friday, September 10, 2004
Print this


New record store brings recycled, new tunes to students on campus

The newest addition to the student union, Replay, has seen almost 1,000 customers in its first week of operation.

The new record store, located on the main floor of the Student Union Memorial Center next to Kaplan testing center, opened Sept. 3 and offers new and used CDs, DVDs and video games.

The store is the first in the country to feature a sales floor with nothing but display items and no actual inventory, said Rob Thomas, Replay co-manager said. All merchandise cases are left empty and open so customers can peruse items more closely.

If a customer wishes to purchase an item, the inventory is retrieved from filing cabinets behind the register, said Thomas.

"This process keeps shoplifting to a minimum," said Thomas, a business sophomore.

The store is still putting on the finishing touches and is about 80 percent complete, Thomas said.

A 50-inch plasma TV was added yesterday and when completed, the store will also feature Microsoft X-Box and Sony PlayStation kiosks, Thomas said

Marco Benassi, Replay co-manager, said the store plans to be completely finished by mid-October for its grand opening.

Because Replay just opened, they do not have everything students might want, Benassi, an economics senior, said.

I think it's cool that we have a CD store on campus and we don't have to travel somewhere else.

- Ruth Tewoledemedhin, physiological sciences freshman

"Since we are so new, we don't really have the broad range of what people want," Benassi said.
Adam Banks, a biochemistry senior, said that he is glad there is a music store in the student union now, but there are some things that need to be worked out.
"I think it was a good idea, but so far it has not been executed well," Banks said.
Banks said a CD that came out in stores at the end of last month has not been available at the store yet.
To make up for this and to learn what the demand is, Thomas said the store will try to have a very prompt request process. Anything a student wants will be ordered the day it is requested and delivered the next morning, he said.
Replay is separate from the UofA Bookstore, which also offers a small CD selection.
With the opening of a store completely dedicated to music, the bookstore will continue to offer new releases of popular movies and CDs but will dedicate most of its music section to jazz and world music.
The store has had a lot of success in the first week and Thomas and Benassi only expect it to get better.
"There have been people here since the day we opened," Thomas said.
"We have high hopes for our grand opening. Our business will just boom," he said.
Ruth Tewole-demedhin, a physiological sciences freshman, said she likes the convenience of the store and will probably be a frequent customer.
"I think it's cool that we have a CD store on campus and we don't have to travel somewhere else. I definitely think I'll shop here a lot, they have a lot of variety," she said.
Replay is open 10 a.m. - 7 p.m. weekdays and Noon - 5 p.m. on weekends.


Write a Letter to the Editor