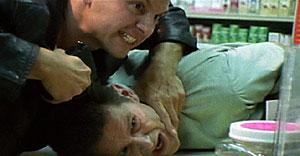 photo courtesy of Joe Odea

"Parallel" - Directed by Joe Odea and Jenny Beatty, this film is the story of a gas-station robbery gone wrong.

By Celeste Meiffren
Arizona Daily Wildcat
Wednesday, May 4, 2005
Print this


The art of filmmaking is something that a lot of people would like to do but are not very willing to work for. Juniors seeking bachelor's degrees in the fine arts program have shown that they are committed to their craft by continually working on films all semester.

This semester, the juniors in media arts have taken a narrative film class and a documentary film class. In the narrative film class, the students make one film for the semester, and in the documentary film class they make four.

For the upcoming screening of "I Dream In Widescreen" at El Con Mall on May 11 at 7 p.m., the students show their narrative films and choose one out of the four documentary films to show.

Nathan Swango, a media arts junior, is showing his personal documentary at the screening.

"This personal documentary that I've made is about my feelings toward God and his abandonment of me. But it's not about my dad," Swango said.

The students were given freedom to explore any topic they wanted for their documentaries. Swango decided to use the absence of a relationship with God as a basis for his documentary.

"I used excerpts from Rudolfo Anaya's 'Bless me Ultima' to tell the story of my feelings towards God and the absence of God in my mind. Like, I don't understand how people can find him so easily and worship him. I don't really know what that's like," Swango said.

Although he is showing his personal documentary at the screening, Swango also worked as an editor and a director of photography on two other films that are being screened.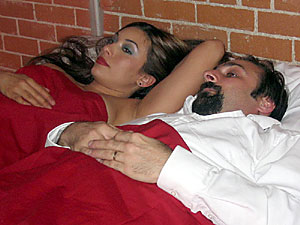 photo courtesy of Phillip Lybrand
"Broken Hearts and Wilted Flowers" - Directed by Phillip Lybrand and Darren Rudy, this take on film noir tells the story of a tortured man and his dangerous visit to a prostitute.
"Documentary means not fake. Narrative means story," said media arts junior Erick Aguirre. "Some people think that narrative movies are just, like, fake. But I take the fake and turn it into fiction."
Aguirre is the writer and director for his narrative film "Hitman by Night." He said he thought it up on a whim, and it turned out to work in his favor.
"'Hitman by Night' is about a family who is unaware of the father's occupation. He contemplates quitting his job as a hitman because of his little girl, but it's not going to be that easy," Aguirre said. "I've helped out on some of the senior films, and while rewarding, it's a completely different experience trying to create your own vision."
Not every student gets to write or direct his or her own narrative film. Aguirre considers himself fortunate for being able to direct.
"Directing is a control freak's wet dream. It gives you the opportunity to tell people what to do and to create what you see in your head. Sometimes you feel bad, but then you realize that if it wasn't for you, these people's lives would be useless," he said.
Another narrative film that is being screened is "Smile Like a Sunflower," co-directed by Andy Martinez, a media arts junior.
"The basic premise (of 'Smile Like a Sunflower') is that a man learns that he is about to die. He only has a few more days to live, and he resolves himself not to miss it. He's told that he's going to die in his sleep so he tries to stay awake for it," Martinez said.
Although the filming went relatively smoothly, there were still awkward moments on the set.
"Our movie was about an older gentleman dying. So sometimes I felt a little awkward telling this old man, our actor, like, 'OK, you're dying.' But it went pretty well and we had great actors," Martinez said.
The entire process for the narrative filmmaking for the students has taken all semester. There is pre-production, filming and post-production. The filming is the part that takes the least amount of time, while pre- and post-production are a huge time commitment.
"Filming is really physically demanding because you go and shoot all day long for three days. And, I mean, they are really long days. The hardest part, though, I would say is the planning. Finding actors and locations, and just coordinating logistical aspects of making the film," Martinez said
While the narrative films take all semester to film, the documentaries take about a month to complete.
After a semester of hard work and late nights, the students get to show everyone their films. It's a celebration and an affirmation of the skills required to produce interesting movies.
"Some people think we're elitists, but they're just upset because we're better than them," said Aguirre. "BFA is kind of like an anagram for 'Best Fucking Artists.'"


Write a Letter to the Editor