Tuesday, September 14, 2004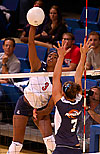 Volleyball: Abernathy named week's best
Junior wins 2nd Pac-10 player of week award
Things couldn't get much better this week for Wildcat volleyball player Jennifer Abernathy. After celebrating her twentieth birthday on Friday, the junior outside hitter was named Most Valuable Player of the Four Points University Plaza Wildcat Classic and Pac-10 Player of the Week for Sept. 7-12.
Abernathy netted 50 kills with 22 errors on 111 attempts in addition to 25 digs and a total of 53.5 points in the Wildcats tournament sweep over Nicholls State, No. 9 Pepperdine and No. 18 Louisville. The sweep marked the first time since 2001 that No. 19 Arizona was able clinch back-to-back victories over ranked opponents. [Read article]



Commentary: Opponents' weak year benefits UA on gridiron
Entering the 2004 season, many were concerned that the Arizona football team wouldn't be good enough to compete in the Pac-10 or against the two preseason top-25 teams on its non-conference schedule.
I, like many others, saw two, maybe three games as winnable for the Wildcats.
But only two games into the season, doubts have turned to hopes, and it has little to do with what the Wildcats have done for themselves. [Read article]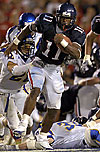 Football roundup
Stoops: Turnover issues can be fixed
Even three days after Arizona's 23-6 loss to Utah, the Wildcats are still smarting over four turnovers against the Utes, errors that resulted in their first loss of the year. But head coach Mike Stoops remains positive, noting that the Wildcats' interception and three fumbles are mistakes they can do something about.
"Those things are correctible," Stoops said. "We obviously need to focus. That is an area of concern. Winning the turnover battle is one of the most critical stats." [Read article]



UA tennis' doubles duo earn nation's top rank
The Intercollegiate Tennis Association ranked Arizona's women's doubles senior duo Dianne Hollands and Maja Mlakar as the preseason number one team in the nation this week.
The pair finished the 2003-04 season with a season-high No. 5 ranking overall with a 19-8 record, en route to this year's preseason honor.
Hollands and Mlakar reached the semi-finals of the 2004 Pacific 10 Conference Doubles Championship and ended up losing in the first round of the NCAA tournament. [Read article]




showAds('bigbutton')?>




showAds('mediumbutton')?>

showAds('wildlinks')?>