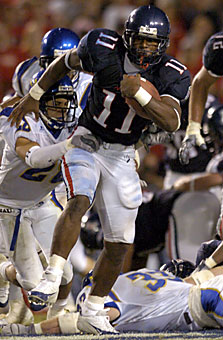 CHRIS CODUTO/Arizona Daily Wildcat

Arizona running back Mike Bell picks up some of his 118 yards rushing during the Wildcats' season-opening 21-7 win over Northern Arizona. Through two games so far this season Bell has carried the ball 38 times on the ground, but has fumbled four times as well.

By Charles Renning
Arizona Daily Wildcat
Tuesday, September 14, 2004
Print this


Stoops: Turnover issues can be fixed

Even three days after Arizona's 23-6 loss to Utah, the Wildcats are still smarting over four turnovers against the Utes, errors that resulted in their first loss of the year. But head coach Mike Stoops remains positive, noting that the Wildcats' interception and three fumbles are mistakes they can do something about.

"Those things are correctible," Stoops said. "We obviously need to focus. That is an area of concern. Winning the turnover battle is one of the most critical stats."

Junior running back Mike Bell committed two of the team's three fumbles, giving him four fumbles in two games.

"Mike feels as bad as anybody," said Stoops about the errors.

Stoops added that it is vital to keep Bell confident and more conscious on his ball handling because of his large role in the UA offensive scheme.

He said most of the time Bell is trying to make a big play, and sometimes taking care of the football becomes a secondary concern.

"You've got to make sure the ball is secure, that's the most important thing," Stoops said.

2003 top wideout Ealy returns to UA lineup

For the second week in a row, there were no new injuries to report, and the Wildcats got back their only injured player remaining from summer camp.

Junior receiver Biren Ealy, who led the Wildcats with 42 catches and 577 yards receiving last season, will return to the Arizona lineup after missing the team's first two games due to a broken foot.

"It gives us a good speed guy out there," Stoops said. "Biren is hungry to get out there and play. Hopefully he'll have a big impact this weekend. He's just another weapon outside."

Bell, who injured his knee and fumbled on Saturday's first play from scrimmage, will return to practice today after suffering from a laceration under his left knee.

Bell returned to Saturday's Utah game, but had only seven carries on the night after touching the ball 34 times a week earlier against Northern Arizona.

"We expect Mike to be back and start this weekend," Stoops said. "It could have been a lot worse"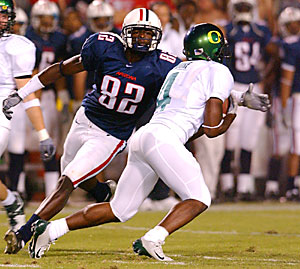 CHRIS CODUTO/Arizona Daily Wildcat
UA wideout Biren Ealy lunges at the returner during punt coverage duty in Arizona's home loss to Oregon last season. Ealy is expected to see his first action of the season Saturday when the Wildcats take on No. 20 Wisconsin at Arizona Stadium.
Cats try to tame heat
With temperatures expected to be in the mid-90s for Saturday's 1 p.m. game versus the Badgers, heat is already being discussed as an issue for both teams.
"It'll be a factor. It's something we have to be smart about," Stoops said. "Controlling the ball will be key, time of possession will become an advantage for either team."
Stoops said he doesn't believe the Wildcats will be at an advantage just because they are from the desert climate.
Arizona's first two games both started at 7 p.m., after the weather cooled down a bit.
"Night games have been very pleasant here. This is our first time playing in the heat in the middle of the day."
The Wildcats hope to offset the heat with a new cooling vest from Nike which some players will be wearing.
The vest is worn underneath a player's pads, and can hook into a cooling unit to circulate cold water around the player's body.
Stoops said about 15 players wore the vest last weekend against Utah, and he expects more to follow suit this Saturday.
Another factor that could become an issue with the rising temperatures is both teams' depth.
Stoops said with the sunlight and higher degrees, more players will probably have to step in and play.
The Wildcats have played a limited number of linemen in their first two games, an issue Stoops said has been a concern from the club.
"Our biggest concern is lack of depth at certain positions. That's something we obviously need to do a better job with. We just have to develop our players," he said.
Coaching connection
Wisconsin head coach Barry Alvarez knows Stoops pretty well-Stoops played defense under Alvarez all four year he played at Iowa. Alvarez was the linebackers' coach for the Hawkeyes while Stoops played defensive back.
"He recruited me, so I know his family pretty well," Stoops said "We go back a long, long time."
The matchup also marks the return of former UA assistant Rob Ianello to Arizona Stadium.
Ianello, the Badgers' wide-receiver coach for the past two years, was the Wildcats recruiting coordinator from 1994-2002, in addition to directing the UA wide-outs for his last five seasons in Tucson.
Ianello's wife, Denise Dove-Ianello, was Arizona's women's basketball associate head coach before taking an assistant coaching job with Wisconsin two seasons ago.


Write a Letter to the Editor