Tuesday, September 14, 2004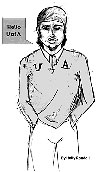 Human-Serving Institution
Last week, Charles Tatum, dean of the College of Humanities, publicly advocated that the UA become a Hispanic-Serving Institution, a mission that President Peter Likins has also deemed worthy.
By definition, according to U.S. Department of Education standards, becoming a Hispanic-Serving Institution would mean UA's Hispanic enrollment would increase from 14 to 25 percent, and of that enrollment, 50 percent would be low-income students. [Read article]



UA low rankings caused by state failure
While it cannot blame the Bush administration or Western patriarchy, the UA can point its finger at the state of Arizona for its failure to do its part in helping the UA rise above its mediocre rankings in national collegiate listings.
This failure on the part of the state is not due to the budget cuts or the fact that the Arizona Constitution does not allow state-funded institutions to own stocks in private companies, and thus not providing the university enough funds to compete nationally. Rather, the state has failed to cultivate a crop of students who are ready for the rigors of college life by not providing an adequate secondary education. [Read article]



Editorial: Voter Disenchantment
Various practices keep students from voting
All too often, young people are accused of apathy regarding anything political. Come election time, the familiar lament regarding our lack of civic duty rings even louder. However, despite the general public misgivings about youth involvement in the political sphere, or lack thereof, anyone can see that civic activity on campus - from the various booths on the UA Mall to the passionate debates students have amongst themselves regarding our foreign and domestic policies - proves that such apathy doesn't exist. [Read article]



Mailbag
Opinions section lacks relevant content
Last week, the number of US soldiers who died in Iraq passed 1,000.
(Also tens of thousands of Iraqis, but let's forget them, after all so do CNN, Fox News, and NBC).
One might expect outrage, or at least discussion, in the Wildcat opinions pages. Tough luck. The outrage was reserved for the cancellation of a graduation ceremony. The issue of the week was "What's overrated at the UA," with impassioned discussion on such life-and death issues as butt shorts and the monotony of eating burritos every day. [Read article]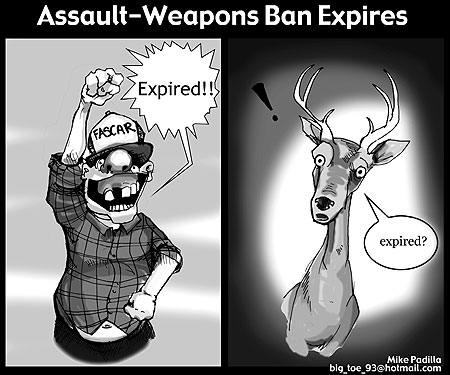 showAds('bigbutton')?>




showAds('mediumbutton')?>

showAds('wildlinks')?>